Prices in Uzbekistan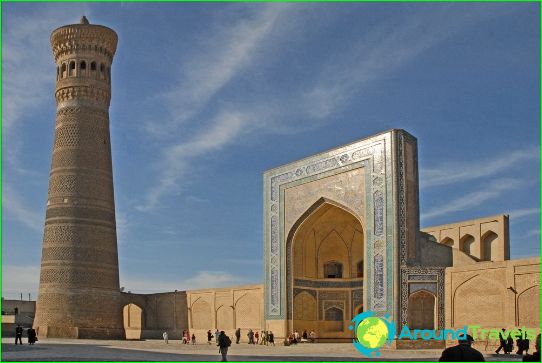 Prices in Uzbekistan is not very cheap: all foreigners here have to pay more than the locals.
Shopping and souvenirs
Uzbek jersey, linen,national dress is better to buy at one of the flea markets, for example, on the "Race Track" the market (Tashkent). And for modern clothing is to go on the market or Altai "Kadyshevo", or in the shops located along the street Amir Temur. Tank tops, hats, coats and other products from astrakhan advisable purchased in factories or stores located in tourist destinations.
What to bring from Uzbekistan?
kuzmunchok (amulet against the evil eye bracelet withglass beads-eyes), the product of khan-atlas, articles, decorated with Uzbek handmade embroidery (small mats, bags, wallets, cases for mobile phones), skullcap, clay figurines of various sizes, paintings, dolls, girls dressed in national costumes, products from natural camel wool products from Khiva ceramics, traditional knives and daggers, decorated with fine carvings, gold ornaments, Bukhara carpets;
Uzbek wine, tea, sweets and dried fruits.
In Uzbekistan, you can buy dolls in national costumes from $ 10, the Uzbek wine - from $ 5 articles of khan-atlas - from $ 10.
Excursions and Entertainment
On tour in Tashkent in the new part of the city youYou see the New Tashkent Tower, Monument of Courage, and in the old part of the city - the Juma mosque architectural complex "Hazrat Imam" Kukeldash, visit the bazaar and in the national park named after Alisher Navoi. This tour will cost you $ 38 on the condition that it will be present for at least 4 people (if the tour will be held for 2 people, each will pay for it for $ 53).
With children, you can go to the Tashkent Zoo. Watch the animals you can for $ 2 and children under 7 years - free of charge. In Tashkent, and should go to the amusement park "Disneyland": here you will find many attractions and water activities. Entertainment Approximate cost - $ 25.
Transport
Depending on the route range for travel in taxi you'll pay $ 0.3-0.6, and the bus and metro - $ 0.25.
In Uzbekistan, you can rentthe car only with driver - it will cost you $ 30-40 per day. This is the case if you arrange yourself with the driver. But if you take advantage of this service by contacting the special company, it will cost you more.
If you have a budget, thenholiday in Uzbekistan you will be able to keep within the $ 30-40 per day for 1 person (you will be able to stay in a modest hotel, eating at the table and move around on the bus). But for a more comfortable stay, you will need $ 55-65 per day for 1 person.
Photo