Skiing in Uzbekistan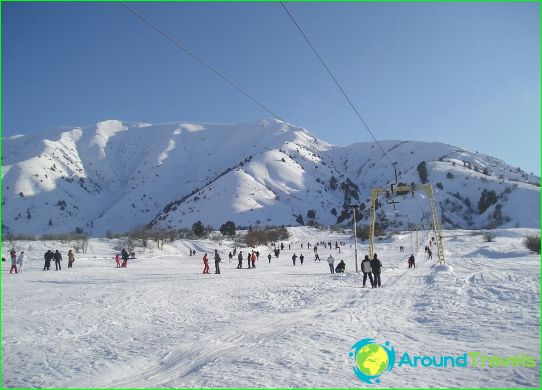 Hot Uzbekistan is located in Central Asia,boasts not only the ancient cities and strange bazaars, but also excellent ski resorts, skiing, it differs pleasant features.
The equipment and lines
The main difference between the ski resorts of UzbekistanIt is a comfortable climate. It's warm, and the snow is always mild, with no ice accumulation and ice crust. The main resorts are located just a hundred kilometers from the capital. On the slopes of Chimgan and Beldersay always crowded: the local slopes allow us to speak about the high quality tracks, and the infrastructure is comparable to the European level.
Chimgan is located in the spurs of the Tian Shan. its main peak - Mount Big Chimgan, whose height exceeds 3300 meters. From the top run up the road, the bulk of which is marked for novices and beginners. So Chimgan may well be an excellent option for a family holiday.
Season to Chimgan starts in January and lasts untilthe twentieth of March. To the start of athletes deliver cable cars and drag lifts. The length of the slopes in the resort of various and ranges from 700 to 1000 meters. For the most advanced are equipped with the "red" and "black" trails that require a high level of skill and training. By the way, learn the right techniques, you can ski at a local ski school.
Powerful snow cover in the resort BeldersayIt allows its guests a comfortable ride from the middle of December until the end of April. The slopes of the center of winter recreation are located 10 kilometers from Chimgan, so if you want you can combine for a vacation stay in the two ski resorts.
300 sunny days a year, comfortable temperatureair, soft snow and officially registered in the FIS challenging tracks for professionals - these are just some dignity Beldersay, ski resort in Uzbekistan.
Activities and excursions
At ski resorts in Uzbekistan can notonly sports, but also to rest. Hammam and wonderful cafes with national cuisine will help to relax after a busy day and a dynamic and exciting excursions diversify vacation and bring it informative note. The most popular excursions are a trip to the city Khodjikent, famous for its cave paintings preserved from ancient times.
Photos of the ski resorts in Uzbekistan