Bukhara Streets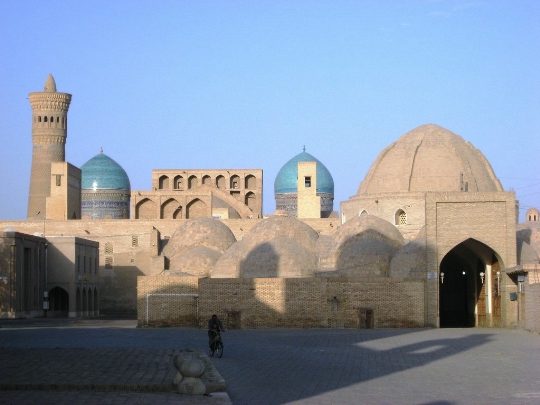 Exciting cities in Central Asia is consideredBukhara. It has existed for over 2500 years and is included in the UNESCO World Heritage List. Streets of Bukhara until 1920 confined to the fortress wall. They kept the old traditions of the ancient city. Bukhara has repeatedly experienced the destruction and fires, but each time it was revived. Bukhara is considered historical and architectural museum in the open air. Today the city's population exceeds 250 thousand people. You can hear the Uzbek, Russian, Tajik language.
Historical reference
By the name of historical streets, you can determineWhat type of activity was dominated by the population in a given area. By the 20th century, the city had more than 200 mahallas, uniting quarters. It gradually formed neighborhoods that are home to members of certain ethnic groups. Some of the streets were named after famous citizens. Administrative units were Husar. Each of them was chosen elder, to solve a variety of issues with the city authorities. At the beginning of the 20th century, the number dropped to 48. guzars In the future, instead of quarters appeared dispensation. Bukhara has expanded gradually, there were new highways.
Places crossing main streets for centurieswere major trading points. There covered bazaars, which are shopping centers and in our days were built. Each market has its own dome and designation. The city has the following covered bazaars: jewelers dome (Taki-Zargaron), the dome changed (Taki-Sarrafon) dome hats (Taki-tulpak).
On the streets of Bukhara preserved madrasas, mosques,mausoleums, areas with a vintage layout. Urban design has been generated based on topography and fully preserved. The highest point is the citadel, which now serves as the seat of local history museum.
Main Square
The central square of Registan used tocelebrations and military parades. The main streets of Bukhara diverge from the center towards the old city gates and pass on to new areas on the outskirts. In the central part of the town is limited traffic. Some of the main streets are only for pedestrians.
One of the main areas is the Labi-Hauz. This is a historic center and a major architectural complex of the city. There are attractions Kukeldash and Divan-Begi and khanaka Sofa Run.
Street Bahauddin Naqshbandi
Being the main street of Bukhara, Naqshbandi hasmodern décor. It differs from the old city quarters of the presence of entertainment venues, bars and office buildings. It is always crowded by strolling tourists and local residents.
Photos of Bukhara street