Bukhara suburbs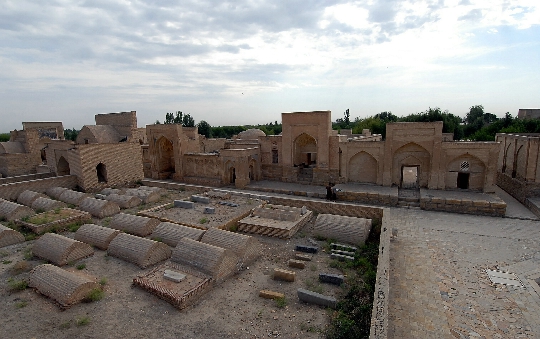 The cultural layer on the territory of Uzbekistanthe city is about twenty meters - it is at this depth archeologists have found here the remains of buildings and structures, old coins, utensils and dishes, dating at least, IV of century BC. In Bukhara suburbs also are numerous ancient sites, which consistently high interest of tourists visiting Uzbekistan.
The gray-haired guard times
This suburb of Bukhara became a town in the '80sthe last century, but it was founded many centuries before this in the VII century. Vabkent heyday came in the Karakhanids era Turkic dynasty that ruled from IX to XII century. It was then built a magnificent mosque, of which only the minaret remains today. The height of the majestic building is almost forty meters, and its cladding is polished stones correct form, laid out in a checkerboard pattern similar to bricklaying. The inscription at the top is made of carved terracotta. It states that a minaret built in the suburbs of Bukhara Bukhara supreme official in 1199 AD.
In the wake of the dervish order
Muslim ascetic monks called dervishes,and their refuge in Uzbekistan was located in Bukhara suburbs, five kilometers west of its center. The village is called Sumitan, and its main architectural feature is listed today in the list of UNESCO World Heritage.
The architectural complex of Chor-Bakr isa necropolis, the construction of which began in the time of the Samanids in the IX century AD. Necropolis "Four Brothers" - a burial Abu Bakr Saad, a descendant of the prophet through the local beliefs. Once this man founded a dynasty Dzhuybarskih Seyyids.
City of the dead is called a necropolis in whichthere are streets and courtyards, tombstones and dakhma. Dead city center is a mosque, madrasa and abode where dervishes lived. Facades of the mosque and khanaka in the form of portals with arches and the side walls have two tiers of loggias.
Another cult band Dervish calledBaha al-Din. It consists of traditional madrasas with mosques and minarets. Erected in the first half of the XVI century, Baha al-Din in the suburbs of Bukhara also takes pride of place in the UNESCO World Heritage list.
Photo