Taxi in Uzbekistan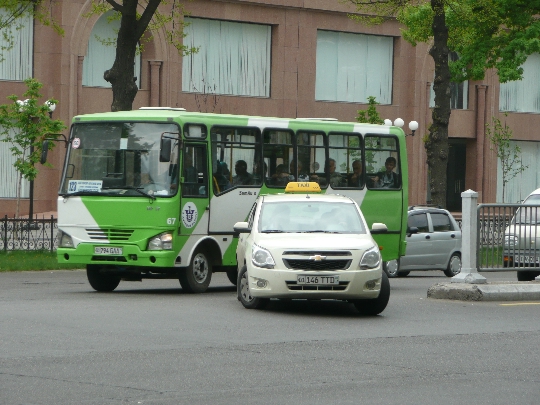 Popular means of transportation in Uzbekistan -this taxi. Taxi in Uzbekistan - is a separate option for those who like to travel with comfort. The fact that buses and taxis in the country are quite comfortable, so the people of Uzbekistan are rarely travel in a taxi. Often this type of transport used by visitors who want to see the country in all its glory.
In Uzbekistan, a taxi most often used by those whoIt makes long-distance routes. Taxi - group. If you need to quickly get anywhere, then it is best to use this mode of transport. By the way, in Uzbekistan there are places that can only be reached by taxi. For example, through a mountain pass you will not carry any bus or taxi, but the taxi.
Call a taxi, please call: (+998 71) 232 32 32 992 70 70; (+998 90) 345 20 52; (+998 98) 300 20 February.
Features Uzbek taxi
Before you call a taxi in UzbekistanThink how far you have to go. The fact that the Uzbek taxis do not drive long distances. It is best to leave in the morning. At this time of day it is easier to find a taxi, passengers will gather faster. If you want to go after dinner, you should understand that the taxi will be much harder to catch, and therefore the driver can request an amount much larger than expected.
Taxi group is most frequently located on thea place that indigenous Uzbeks called "penny". There is always the biggest crowds. With every "penny" in any city you can go to the capital of Uzbekistan.
rates
It should be noted that in Uzbekistan to travel in the taxi prices are quite loyal. By today's standards, they can even be called a cost-effective:
Over 100 km of track you will need to pay 5-10thousand soums. It is about 2-4 dollars. It is considered to be expensive for the Uzbeks. Taxis are more expensive than the bus. But when compared to the prices in Russia, it can be said that the Uzbek taxi - cheap.
In any place in Uzbekistan can be reached inexpensively - pay up to 6,000 soums. By the way, it is possible and in a much smaller amount. It all depends on the city where you are.
At airports, the prices often overstated. Usually, taxi drivers provide access to the city for 15-20 thousand soums.
Haggle and leave less! With every meter away from the taxi you get to save. The further you move away, the greater the likelihood that the most active taxi driver "persuade" you to leave in about 4-5 thousand sum.
Photos Taxi in Uzbekistan