Tourism in Uzbekistan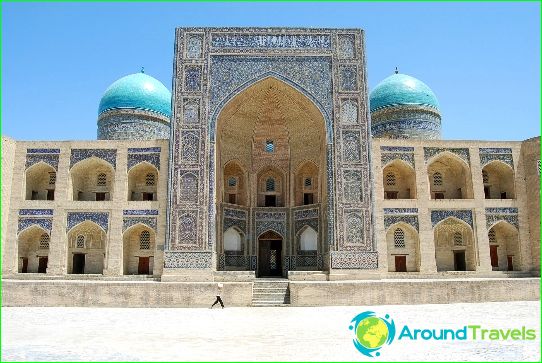 The legendary Silk Road passed through the territories ofmodern Uzbekistan, Samarkand, Bukhara and Khiva preserved ancient architectural monuments and the magic charm of the ancient East. It is these places, pride and glory of the country, may be the main attractions, appealing to guests from abroad.
Tourism in Uzbekistan - is a relatively newthe direction of the country's economy. Perhaps, with the right policies in this area, the creation of infrastructure, the development of interesting excursion routes and transport links make the country speaking tourists currently. In the future, it may well compete with other Asian powers, offering their own unique routes and program host.
Mindfulness does not hurt
Choosing Uzbekistan travel, should beextremely attentive to drinking water and to use the products. Water from the tap - a taboo for the inexperienced tourist tender, only bottled or boiled. Vegetables and fruits thoroughly washed, peeled, meat consumed only after severe heat treatment.
Given impossible high temperatures in summerperiod, care should be taken to acquire the appropriate wardrobe (though the nights are cool enough). Sun creams and sprays, products for protection against insects and should be in your luggage a tourist.
Like at home
Unfortunately, this definition does not quite fitto hotels in Uzbekistan. Most hotels left from the Soviet era and in need of repair. Although there were private hotels and pensions, the level of which corresponds to the European lately. Tourist in Uzbekistan should be ready for interruptions of hot water, it is no problem in large cities and expensive hotels. Private pensions are trying to meet the needs of tourists in hot water using boilers.
Uzbek pilaf
Delicious, flavorful, and unmatcheddelicious - suitable epithets corona Uzbek cuisine, which has become a symbol and brand of the country. Handsome cooking process itself, it is like magic - a real culinary miracle turns in front of astonished tourists from quite ordinary products.
There are Uzbeks and other ethnic dishes,which is also enjoyed by tourists - is an exotic lamb and horse meat, vegetable soups, cakes and bread, dairy products. And, of course, the magical drink - tea, which is served everywhere and always.
Photo