Tours to Bukhara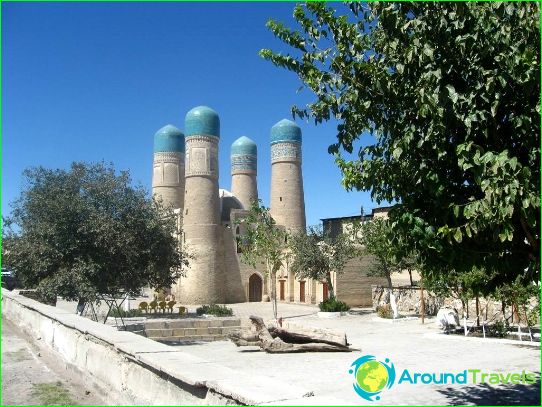 Fans of ancient history tours to Bukhara -a real gift. Archaeologists have discovered a twenty-meter cultural layer on the territory of the town, testifying to the fact that people settled here at least five hundred years before the onset of a new era. Uzbekistan Bukhara - one of the oldest cities in the whole of Central Asia, and the history of its occurrence accompanied by a multitude of mysterious legends.
Priceless treasures
On the territory of the ancient city preservedseveral architectural ensembles for which is to go on a tour to Bukhara. The most valuable, together with the central part of the city identified in the list of UNESCO World Heritage Sites:
The first mention of the citadel Ark refers tothe end of the tenth century. She served as the last bastion of the emirs and was a symbol of power and inaccessibility. The whole city was located in the castle, where the dominated and subordinated, woven carpets and stored treasures, sewed clothes and forged swords. Arch - one of the oldest buildings of Bukhara.
Samanid Mausoleum served as a burial place from the IX centurymembers of a powerful dynasty. Only in the twentieth century it was discovered almost completely buried under the cultural layer of the following centuries. Today, the mausoleum - one of the greatest jewels of Central Asian architects.
Four minarets Chor-Minor - businesscard of the city and a landmark for the participants of the tour to Bukhara. Mosque unusual architectural structure at madrasas is clearly visible from many points of the city. The monument of architecture was built in the early XIX century.
In total the participants tours in Bukhara invited no less than forty architectural attractions, each of which is able to decorate any album on the history of ancient architecture.
Briefly about the importance
To get to the ancient Uzbek city can be a direct flight from Moscow and St. Petersburg. The second option - the plane to Tashkent, and then - the train to Bukhara.
Although the southern latitudes, continentaldesert climate guarantees Bukhara enough cold weather in winter. Happy January temperature often drops to +3, and at night - and at up to -6. In summer the thermometer shows 35 and 25, respectively. The best time to travel to Bukhara - April or October.
The best place to buy famous Uzbekcarpets - urban markets. This is where you can bargain, and significantly reduce the price of a copy of a favorite, and the choice in the bazaar is much richer than in stores.
Photo