The trip to Uzbekistan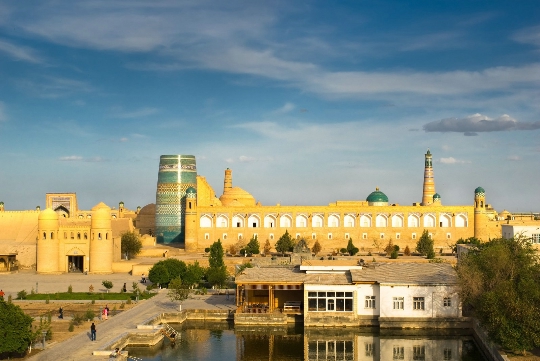 Dreaming admire the real ancient East, then a trip to Uzbekistan will help your dream become a reality.
Additional Information
There is an extensive network in the countryroad routes. The movement is carried out in the usual right-handed mode. By bus you can easily reach all major cities of the country.
Public transport
In the city you can ride the bus, tram or trolleybus. Unfortunately, buses, plying in the city, equipped with air conditioning did not.
Equally convenient type of public transport -private taxis. The fare in a minibus committed no different from the cost of the ticket for city bus. And although the bus should also be on a certain route, but you can ask the driver to stop the car in the desired location.
Taxi
A taxi ride costs relative to urbancheap, but it can be expected if you are already familiar with the existing tariffs. Otherwise, be prepared for the fact that you try to deceive, by exploiting their inexperience. Tariffs for tourists is almost always overstated.
Uzbekistan still thriving and the private carting. Remember that the official taxi drivers, private traders and need, and you can bargain, agreeing on the price of the trip in advance.
Metro
Metropolitan is available only in the capital. In addition, Tashkent subway only throughout Central Asia. Works Metro daily from six in the morning and ending at midnight.
Metro is equipped with modern air conditioning, so not hot stations. It is worth remembering that at the stations to be photographed and videos are strictly prohibited.
airlift
The role of domestic airline company performs "Uzbekistan Airways". From Tashkent, you can get almost all the big cities of the country.
Railway transport
The trip by train can be accomplished only in four directions. The starting point of Tashkent, and the terminus are:
Bukhara;
Urgench;
Andijan;
Termez.
On the route Tashkent-Bukhara you will be able to travel on the company's Express. By the time the journey takes just 4 hours
during which you will be offered dinner or breakfast. This service is already included in the fare.
Car rental
As usual for us the concept of car rental in the countryno. But several companies are offering rent a car with a personal driver. The service can be ordered in any major hotel. As an alternative to the rental car for one day only - use a taxi, pre-agreed with the payment by the driver.
Photo