Independent travel to the Vatican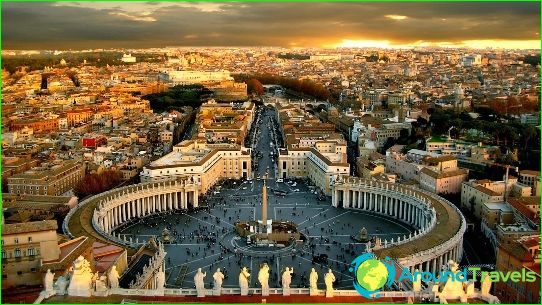 For independent travel in the city-stateThe Vatican requires only a Schengen visa and a great desire. Everything else will follow definitely in the heart of the Catholic world, where the Pope's blessing, you can get a Sunday afternoon, just walking along the main and only square.
When to go to the Vatican?
A visit to the capital of the Catholics, you can make anytime of year, because the climate of Italy, whose territory is located the Vatican, can comfortably relax in the winter and summer. July-August - the hottest time when the thermometer often reaches 35 degrees. But under the shadow of St. Peter's Cathedral is always cool, and the optimum temperature for the conservation of magnificent frescoes of the Sistine Chapel, and allows visitors to feel comfortable in any season. But Christmas at the Vatican - is a great occasion to enjoy not only the view of the main tree of the Catholic world, but also the warm days in the Eternal City.
How to get to the Vatican?
As located in the heart of Rome, the Vatican easierjust get on the plane. Rome Fiumicino Airport takes many regular flights of different airlines from Moscow. In order to get to the center of Rome and to the Vatican, will have to overcome 30 kilometers by special buses or trains, departing directly from the station to the airport. In Rome, they arrive at Termini station, where you need to transfer to the transport, next to the Vatican - the subway or buses. It's nice to take a walk from the center of the Italian capital to St. Peter's Square on foot using Maps showing her walking routes in Rome.
housing
Hotels in Vatican City there, and because of his guestschoose the hotel in Rome. The Italian capital - not the cheapest city, and the hotel category 3 * and above may seem quite expensive. Economical option for hotels in Rome - a "two-star" hotels or hostels type "B & B".
Argue about taste
simply nowhere to have lunch at the Vatican fully -cafeteria at the museums of the city-state can only offer coffee and snacks or sandwiches. That is why travelers prefer to "cross borders" and trapeznichat in Rome, without mixing in the holy city of spiritual and material food.
Cognitive and exciting
Chief Vatican masterpiece - the majestic CathedralSt. Peter's, which fit any temple in Europe easily. From the top of its dome open grand views of the Eternal City and its niche store the best works of famous sculptors and painters.
The second significant construction Vatican - Sistine Chapel, painted by the great arches of which Michelangelo. Fans of the masterpieces of landscape design is to take part in tours of the Vatican Gardens.
Photos trip to the Vatican