The airport in Caracas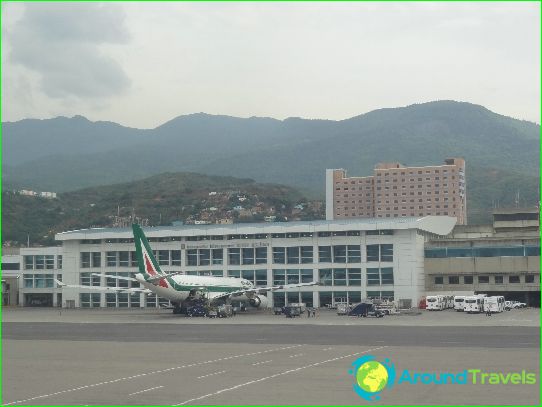 Airport Simon Bolivar - Caracas International Airport, which is located in the city Maiquetía. Distance from the Venezuelan capital to the airport about 20 km.
Caracas Airport serves regular passenger and cargo flights to various destinations around the world.
Until 1997, the airport was the main hub for the Venezuelan airline VIASA.
In 2000-2001. reconstructed airport, the main task was to ensure the conformity of the airport to international standards. Much attention was paid to security, customs and immigration control. Also significantly improved the quality of services.
On a note
During the flight to Caracas, before the arrival ofpassengers migration card is issued in triplicate. One of them is taken during the passport control. The other two remain with the passenger at the time of stay in the country.
In the future, when leaving the country, withpassport control again require this sheet. Therefore, on arrival you need to save them, otherwise you'll have to buy a new form of $ 6, and re-fill it.
Terminals and Services
Caracas Airport has 2 terminals, a first fordomestic flights and one for international. The distance between terminals of about 100 meters, so to move from one terminal to another is not difficult.
Almost none of the airport staff does not speakin English. Often there can be problems with access to luggage, so be aware that you may have to spend a little more time on it.
Airport offers all the standard range of services: shops Duty-free, cash machines, medical center, cafes, restaurants, etc.
For security and control are here,perhaps too seriously. Many passengers are screened in detail, especially if he has found anything powder, such as coffee. It is worth noting that the tourists in this area ratio is more loyal, but locals inspect stricter.
Transport
To get to the city can be a rental car. Companies that provide cars for rent are located directly at the airport.
Also, the city can be reached by public transport - buses and taxis.
The cost of the bus ride will be about two dollars, and by taxi - around $ 35.
Photos Caracas airport