Airports Venezuela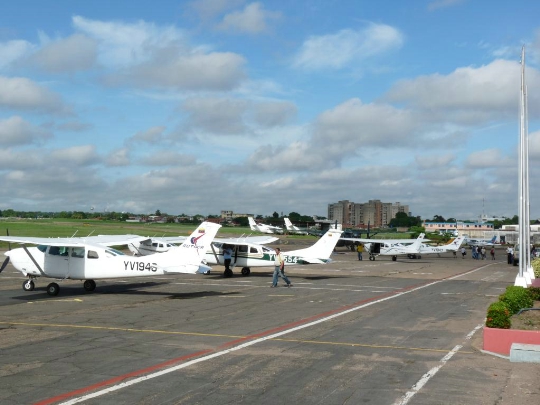 Fairy Venezuela is full of waterfalls, paradisiacalbirds in the green jungle, white sand sunny beaches and other amenities of a relaxing holiday in the vicinity of the equator. Russian tourists here - not too frequent visitor, but in Venezuela's airports no-no and will hear the native language, despite the hardships of a long and costly trip.
Direct flights from Moscow to Caracas is notschedules, airports, and here with a connection here the easiest way to get through Madrid, Paris or Frankfurt. On the wings of Iberia, Air France or Lufthansa Russian travelers have to spend at least 20 hours.
It is worth remembering that the departure from the country is accompanied by a collection of tourist airport tax of about $ 30.
The international airports in Venezuela
The right to take the side of the border have several airports in Venezuela, in addition to the capital:
Carabobo State Airport is located in the northcountry and called Valencia Arturo Michelena. He receives international flights from Barcelona, ​​Miami, Curacao, Panama, Aruba and Bogota. Up to Valencia from the airport on the doorstep and can be reached by car in a couple of hours to the capital.
The city in which it is the airport. General José Antonio Anzoátegui, called Barcelona, ​​but he is not in Spain, and in the north-east of Venezuela. These air gates are in the Timetable flights from Porlamar, Aruba, Curacao, Panama, Miami and Caracas, the capital.
metropolitan area
The main airport of Venezuela is the name SimonBolivar and located 20 km from the center of Caracas. It combines the flight direction of the country's 12 other air ports and takes the side of several dozen international airlines. The schedule of the airport - regular flights to all countries in South America, the USA and Canada, Europe, the Caribbean island. The sides of Aeromexico and Air Europa, Air France and Copa Airlines, Cubana de Aviacion and Lufthansa, United Airlines and LAN Peru - frequent guests at the airfield of the capital of Venezuela Airport.
Transfer to the city can be arranged by taxi or bus, departing from the bus stop at the exit of a single airport terminal.
Details are available on the site - www.aeropuerto-maiquetia.com.ve.
On the beach resorts
Margarita Island - the main directionTravelers who want to get in Venezuela paradise beach holiday. Polmara Airport, the main town of the island called Santiago Marino Karibbean and is located a few kilometers from the center. Transfer from the terminal it is best to book the hotel, but to get a taxi to the selected destinations will not be too expensive.
Airport on Margarita receives flights from Venezuela's capital, Buenos Aires, Bogota, Aruba, Kuroshio and seasonal - from Norway, Sweden and Poland.
Photo