Caracas Metro: scheme, photos, description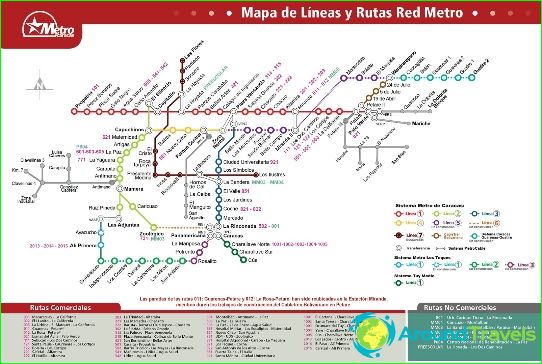 Opened in January 1983, in the subwayVenezuela's capital city has become a long-awaited opportunity to relieve the roads in the city. Populous metropolis suffered from traffic jams and congestion. Four subway lines stretching for more than 52 kilometers, and passengers can take advantage of the Caracas subway stations 48 to enter, exit and other direct routes. Daily ridership on the subway in Caracas is at least two million people.
Caracas Metro - is a complex transport network,of the ways which is laid underground. Each branch has its own color markings on the diagrams. The very first line, put into operation in 1983, is marked in orange. Its length is more than 20 kilometers, it connects the western and eastern parts of the city with its center, and service "orange" 33 branch staff.
After five years in Caracas metro was opened"Green" line number 2, connecting the center and south-west. The length of the branches about 18 kilometers away, with it you can go on line 1. The service "green" route involved 14 trains.
The central areas of the city to the southern suburbsbound route number 3, marked in blue on the schemes. The length of the rails of the "blue" branches a little more than 10 kilometers, and it passed into operation in 1994.
"Red" branch should be in the central part of the city parallel to the line 1 and unloads it from too many passengers during peak hours. Then the route takes 4 to the southwest.
Ground suburban metro line in Caracas stretch for 9.5 kilometers and connect "green" branch with the satellite city of Los Teques. Another ground-based branch will be laid to the city guarenas.
Hours Metro Caracas
Getting Started Caracas subway - 5.30 am. The latest passenger stations receive at 23.00. Some stations closed at 21.00. Interval trains movement on the lines of no more than one and a half minutes. On weekends and holidays the trains have to wait a little longer - up to six minutes.
Tickets for the metro in Caracas
Tickets for the metro of Caracas and are sold at the box officevending machines at the stations. A reference point in the city serve as pointers to the symbols of the subway - a large letter "M" is bright red on one of the "legs" which depicts a red arrow in a white box, pointing down.
Photos of Caracas metro