Hanoi - capital of Vietnam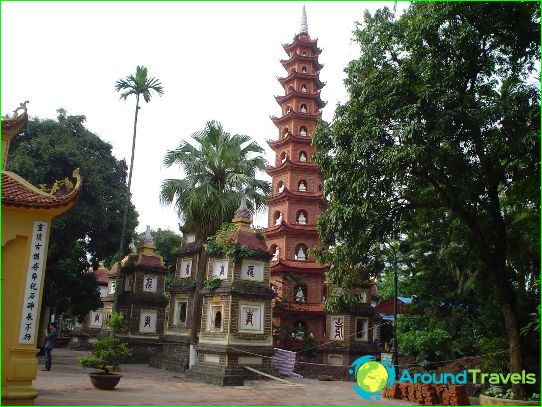 Vietnam's capital, Hanoi will like you at first sight. Rest in the Vietnamese capital exclusively guided and will be bored here once.
Temple of Literature
Ancient temple complex, dating back to 1070year - a magnificent architectural monument. After 6 years after the completion of the construction here is the country's first educational institution with a very beautiful name "Lyceum dreams of creativity." Temple and is now a key center of culture in the country.
Ho Chi Minh Mausoleum
Mausoleum, where it rests the body of the first presidentthe country, was built with the participation of the Soviet builders. It is located on the famous Dean area. It is here September 2, 1945 was read a historical document notifying of Vietnamese independence.
Near the mausoleum carried Hour watch, and changing of the guard takes place every hour. Seeing the body of the great leader willing to many, so the entrance to the building is always a live snake reaches the queue.
Silk street
Literally, the name of the street - Hang-gai - translatedas "Hemp". Long six centuries are traded hammocks and high-grade hemp. And now it is the main place "rag shopping" and a huge variety of silk fabrics. Here you will find shops and public and private shops. By the way, if desired, and the ability to trade in the past, you can get a good discount.
One Pillar Pagoda
Another masterpiece of ancient Vietnamese architecture, which appeared in Hanoi in 1049. Later, she became part of a huge temple complex, partially destroyed during the war with China.
The pagoda was built on the orders of Li Thanh Tong. The Emperor was in a dream the goddess Kouame am calling him to her. The dream was interpreted as a bad omen, and to appease the goddess and the sacred pagoda was built.
Lake of the Returned Sword
There is a legend that the country's hero Le Loi returned the magic sword he had received, by means of which the Chinese army was defeated,
sacred turtle. In the center of the lake is located on the island of the Temple of the Jade Mountain (19th century). Here you can see and the most tortoise (or rather her sculpture) Thap Zoua. Its image is one of the symbols of the capital.
Tran Quoc Pagoda
The oldest religious building in Hanoi. It was built in the year 541. To view the Tran Quoc, you need to go to the quarter Ienfu. Pagoda is located on one of the islands of the western Lake. Here, the architecture of ancient Vietnam will appear before you in all its splendor. Pagoda refers to the objects of cultural heritage of the country.
Tran Quoc is a relatively hightiered structure. Each tier is decorated with Buddha statues. The biggest in the lower tiers, and as the elevation structure, decreasing in size. Especially valuable is the Sakyamuni Buddha statue, carved from precious wood and covered with gold leaf.
Photo