Areas of Ho Chi Minh City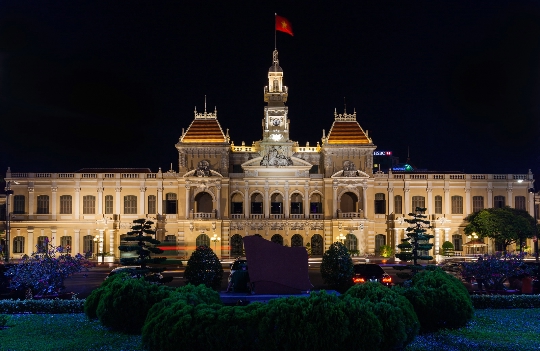 Want to know what are the areas of Ho Chi Minh City? According to the map, the city is divided into 19 urban districts (most of them have no names, and denoted by numbers) and 5 rural districts.
Description of the main areas
District 1: important sights - Notre Dame (Neo-Romanesque architectural style, in the interior stand out the beautiful stained glass windows, while serving singing choir under the sounds of the organ, the Cathedral is a place suitable for photo shoots, including the wedding), zoo (there are more than 500 individuals of 120 species ), Botanical garden (among grown here more than 1,800 plants and trees, distinguished different types of cacti, dwarf ornamental trees and orchids), reunification Palace (here an agreement on uniting the country was signed, the situation remains unchanged in 1975 - guests are offered a glimpse into the many room and watch educational film; on the territory of the palace will be able to see a copy of the tank number 843), opera House (its decor and interior decoration - the work of French artists, the theater is equipped with modern audio equipment and invites guests to visit the opera and ballet performances as well as major music festivals ; tickets cost between 8 to $ 100). Here shopaholics will find shopping malls and branded stores.
District 3: in addition to villas in colonial style, Taoist and Buddhist pagodas famous Museum of victims of war (visitors will see unexploded ordnance, attack aircraft A-1, M48 tank, different picture with explanations, "tiger cages" in which "held" political prisoners).
Tanbin Neighborhood: Zyaklam interesting pagoda (there are more than 100 statues of bronze and precious wood; for the sick relatives can pray at the Tree Wandering souls - it is necessary to attach a piece of paper with the names).
Neighborhood Binthan: examination to be the temple of Le Van Duet (Marshal buried here with his wife, and is also his portrait, personal items, statues 2 horses).
On holiday in Ho Chi Minh City should pay attentionWater Puppet Theatre (scenic action arranged on site Thao Dien Village) and ballet theater named after Ho Chi Minh (in addition to performances, opera and ballet, there are organized concerts of the symphony orchestra).
Where to stay tourists
Problems with accommodation you will not have -Ho Chi Minh City has a considerable number of hotels, and there are constantly being built new. Many tourists prefer to settle in the region of 1, but if you want to stay in a hostel, you can go "Saigon Backpackers Hostel" (he will appreciate the pleasant atmosphere, spacious and clean rooms with air conditioning) and "Koniko Backpackers Hostel" (rooms are equipped with air conditioning, personal cupboards, large windows). B and hotel "Tan My Dinh" can serve as an attractive option.
Photos of Ho Chi Minh City area