Entertainment in Ho Chi Minh City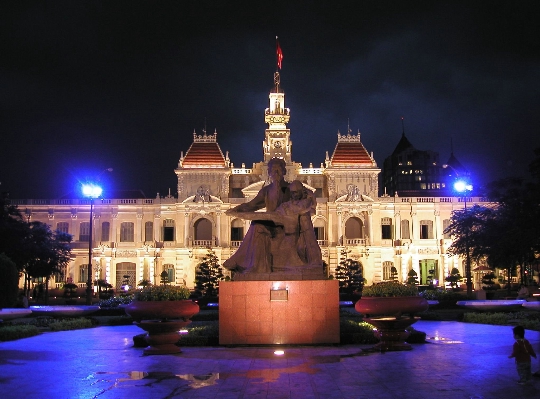 Entertainment in Ho Chi Minh City - it is the study of interesting sights, and visit all kinds of entertainment.
Amusement parks in Ho Chi Minh City
"SuoiTien": here you can not just ride on different carousels ( "Boats", swinging at 360˚, "Rollercoaster") and quad bikes, but also explore the fountains, Buddhist statues, temples and pagodas, to walk along the paths of the garden with fountains and a dinosaur look on Crocodile farm.
"DaiNam": This amusement park offers numerous attractions, the Labyrinth fear, cinema, water park, zoo, eating places that specialize in different cuisines. In the park you can ride the free shuttle or small train, as well as use of the rented bicycle service.
What kind of entertainment in Ho Chi Minh City?
If you are attracted to visit the unusualevents, be sure to visit the Puppet Theatre on the water - you will see a play, the plot of which is built on the popular Vietnamese fairy tales, accompanied by orchestral music.
From the nightlife is worth paying attention to"Heart Beat Saigon" (contemporary music + discos), "Lush Night club" (on Fridays and Sundays are organized hip-hop party at the club and on Saturdays there are dancing to the music in the style of funk), "Saxn 'Art Jazz Club "(here enjoy a vacation lovers of jazz music).
If you are an active traveler, on holiday inHo Chi Minh City you should do research of the Cu Chi tunnels (access here offers a bike) - walk through it and learn interesting facts about the Vietnamese guerrillas will help an experienced guide. In addition, a fee is offered to everyone to shoot at targets (for this issue Kalashnikovs).
Unusual entertainment can become Seen culinary courses - there you will reveal the secrets of cooking and learn to cook popular Vietnamese dishes.
Entertainment for children in Ho Chi Minh City
Waterpark "Dam Sen": Children and their parents will find cozy cafes and restaurants, many attractions, swimming pools, water slides, waterfalls, river with artificial current, a Jacuzzi, sun beds, where you can bask in the sun after being in the water.
Ho Chi Minh City Zoo: small visitors can see snakes, reptiles, predators kept in special cages (they are separated from visitors durable glass). As for the other animals, they roam freely on the territory of the zoo, so everyone can take a picture with them and even stroke them.
In Ho Chi Minh City there is always something to do: offers - designer boutiques and bustling markets, luxury hotels and budget guesthouses, cruises on the Mekong River Safari.
Photo