Holidays in Ho Chi Minh City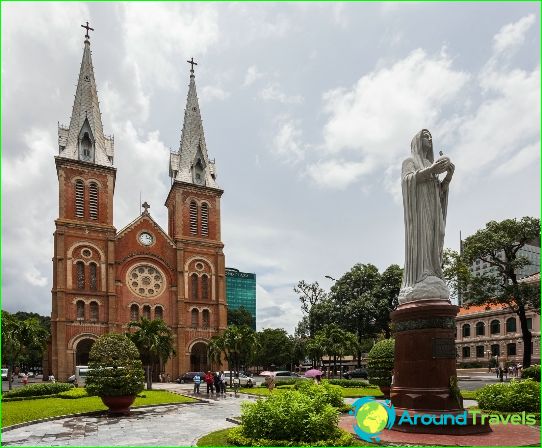 Holidays in Ho Chi Minh City - a great opportunity to enjoy the spectacular scenery, unique historical monuments to see, eat Vietnamese food.
The main types of holiday in Ho Chi Minh City
Active: tourist resort offers a trip on a boat on the Mekong River, a bicycle or a safari tour, go to the mangrove swamps Canso (you will be offered a ride on the mangrove canals by sampan, go fishing or go hunting for crabs), Ho Chi Minh City to visit the zoo, the park dam wall Shen (fame brought him royal and bird gardens, a sports center and a water park), an amusement park, "Give us", see puppet shows, arranged on the water.
Beach: if you are in the priority of a beach holiday, you can relax on the beaches of Vung Tau, famous for well-developed infrastructure of entertainment.
Sightseeing: excursion programs include inspection of the Cathedral of Notre Dame, Reunification Palace (wander through the halls, look at the interesting exhibition and film about the history of the palace), the pagoda Vin Nghiem, a visit to the Museum of the relics of war and lacquerware factory, traveling to Cat Thiet National Park. For those wishing to organize a tour of the Cu Chi district (it is famous for its underground tunnels) - you will see a diagram of tunnels, visit some of the underground passages, look in the museum located here. A surcharge guests here are allowed to shoot from the American machines.
Prices for tours in Ho Chi Minh City
Vacationing in Ho Chi Minh City can be year-round, but the besttime to relax in this resort is considered a Vietnamese December-April. And since that time - the high season, you should be prepared for high prices for tickets. In addition, prices rise during the festive events, such as the Southern Fruit Festival.
Who can save you book tickets toHo Chi Minh City in the rainy season, which lasts from May to November. Rains do not interfere rest, as they are short, but the prices for tours in this period are quite attractive.
On a note!
theft thrives in Ho Chi Minh City - despite the factthat the police constantly on duty near the main attractions and tourist destinations, it is not necessary to carry a lot of money and valuables (rent for this purpose in your hotel safe).
When you cross the road, be very careful - even when the green light, local drivers do not give way to pedestrians.
Since the call outside of the hotel is expensive, and street payphones lose its popularity, it is advisable to make calls from special telephone booths.
From Ho Chi Minh City tour is recommended to bring silk,traditional Vietnamese clothing, souvenirs of military subjects, handicrafts made of stone and wood, paintings in an Asian style, lacquered miniatures, spices and sauces.
Photos holiday in Ho Chi Minh City