The streets of Ho Chi Minh City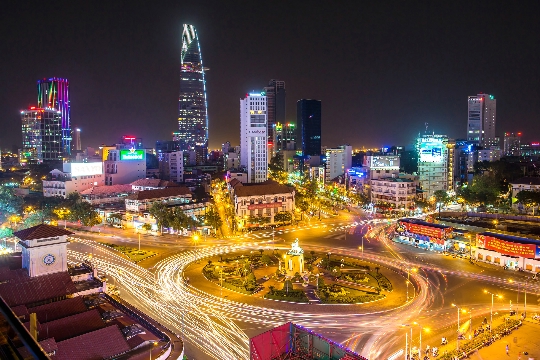 Ho Chi Minh City - the largest city in Vietnam, namedafter the famous leader Ho Chi Minh. Previously, the city was called Saigon. The most popular streets of Ho Chi Minh City in the center. Ho Chi Minh City Streets differ constant movement and noise. In the city there are no quiet places. There are very narrow sidewalks that are packed with people, café tables and bikes. Walk slowly in HCMC impossible.
Features of Ho Chi Minh City
The central part of the city is decorated buildingcolonial style, which coexist with skyscrapers and modern buildings. The city recovered 24 districts. Some of them are denoted by numbers, while others have a name. Popular tourist spots, hotels, restaurants and central market located in the first district. Chinatown is located in the fifth district. On the territory of one region can move on foot.
Ho Chi Minh is a famous street Pham Ngu lao,where are all kinds of restaurants, cafes, bars, hotels and travel agencies. In the evenings, it is very crowded, as all institutions are functioning. On this street there are good shops, spas, trays of fresh fruit. From here to the city's main attractions can be reached within 10 minutes.
No less popular is considered street Bui Vien, running parallel to the Pham Ngu lao. It also offers plenty of entertainment for tourists.
The most beautiful places
Architecture of Ho Chi Minh is a multinational. It mixed the traditions of Western and Chinese culture. The city is home to the Vietnamese and ethnic Chinese. In the last century formed in Ho Chi Minh City's Chinatown, which is considered the largest urban area in Indochina. Today it is a huge district, called Cholon. It occupies the western part of the Ho Chi Minh City. Most of the trading in the country is carried out through this quarter.
In Ho Chi Minh City, you can see the beautiful pagodas and temples. Widely known is the Cathedral of Notre Dame and Notre Dame de Saigon, located in the Paris area. In the same place there is a colonial building of the city post office.
The commercial center of the city is the street DongKhoi. There are brand shops, popular restaurants and cafes. Famous shopping streets are Nguyen Thong, Nguyen Thien Thuat, and others. Good wine merchants offer from the street Nguyen Trong, and cure for representatives of Chinese medicine is on the street Hai Thuong Lan Ong. The famous antique street of Le Cong Kieu is located in the center of Ho Chi Minh City, near the Ben Thanh Market.
Photos of Ho Chi Minh City streets