Nha Trang Beach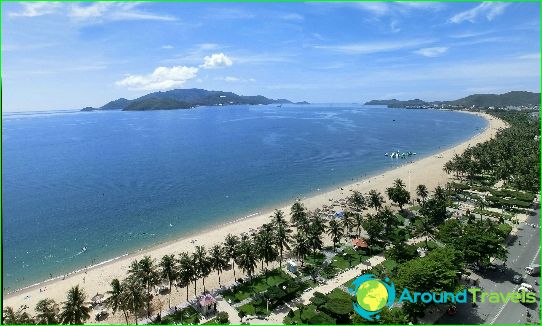 Today, Nha Trang - it's one of the most popularand high-quality resorts in Vietnam. Tourists come here with great pleasure, and few who leave bad rested or disappointed. In the first place it attracts Trang versatility beach holiday. Local city beach, for example, stretched by as much as 7 km, and besides him there in Nha Trang very picturesque corners, where you can be happy to spend a couple of days.
Nha Trang Beach combines romance,tranquility, comfort and amazing unity with the local nature. This could come to meditate, to gain strength for a vacation before the next working year and just gain good impressions. The local beaches, you can not only visit the one-time, but also, of course, remain a little stay at the hotel and enjoy a relaxing stay at the local sands off.
Vacationers who want to spend a vacation here should certainly bear in mind certain features of Nha Trang:
There is the so-called storm season, relax on the beach when it is simply impossible due to high winds and surging waves. Season storm lasts from November to mid-February.
Swim in local waters is sometimes dangerous, because even in the quiet time campers can step on a sea urchin or a star.
The originality of the local culture is not all to the taste, and this will have to be considered.
Beauty City Beach
The best sandy beaches of Nha Trang are mainlyThey draw their uniqueness, as well as the whole of Vietnam. Tourists who do not want anything to seek and choose, chosen city beach, which stretches along the coast in the city. Urban beach of Nha Trang is completely sandy and the water is very clear and clean. Sand is constantly cleaned, as well as the seabed.
If you pay attention to the southern part of the beach,which is located opposite the tourist district of the city, then this is where you will see a rent chairs and umbrellas necessary for a comfortable stay. There is a set price -. 50 thousand VND, but bargaining is always appropriate. Also on the beach offers water sports: parasailing, banana boating, jet ski and hourly rental of catamarans. Soft drinks can be purchased on the beach, not even getting up from the chaise longue - sellers scurrying between vacationers every half hour. Individual visitors can book a massage services and feel over the moon, will not leaving the beach.
Here is concentrated the bulk of the local hotels. In the northern part of the beach is almost no infrastructure, so fans relax in the "wild" conditions can go here to look for adventure. However, we must not forget about the sea urchins and the likelihood of a storm warning.
Photos Nha Trang beach