Tours in Nha Trang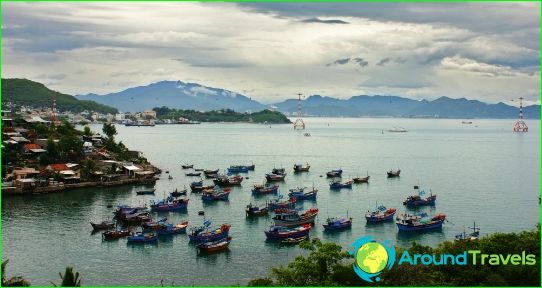 Nha Trang is a popular resort in Vietnam. Besides relaxing on the white beaches and coral reefs inspection, you can be treated with mud and mineral waters. However, there are many historical places that rightfully deserve to be on them to carry out excursions in Nha Trang. The main thing - to find a guide who could tell about all the attractions in your own language.
Most of the local vintageattractions include the ancient Buddhist or Hindu temple complexes, but there are more modern memorials. Some of them still belong to the colonial past, so closely associated with the French culture, part - free period of an independent Vietnam. There are wonderful natural attractions, which is not surprising for the region with a variety of mineral springs. In the vicinity of Nha Trang is, for example, the wonderful waterfalls. And where there is plenty of water and sun, there is always a riot of greenery and bestow us the amazing beauty of nature. Therefore, sightseeing tours in Nha Trang will give you unforgettable impressions.
Must see in and around the city:
Cham Towers Pognagar;
Pagoda Longshon;
Cathedral of Nha Trang;
Statue of Buddha sitting on a lotus flower;
The National Oceanographic Museum;
named Alexandre Yersin Museum. This is not characteristic of the indigenous population the name belongs to the French bacteriologist, who had long lived in Vietnam Khanh Hoa province;
Waterfalls Yangbay and Bajo;
The magical power;
Mud baths Thapba;
The aquarium on the island of Chi Nguyen;
"Monkey Island".
Also, all those who stood in Nha Trang, you should examine the Sanctuary Michon
Sanctuary Michon
In ancient times was the center MichonChampa state. It lasted about a thousand years. Nowadays, it is known that Michon Sanctuary consisted of 70 religious buildings, but survived only 25, and some of them are partially destroyed. Tyamy built their tower on the square or rectangular substrates. Each of these buildings consisted of three elements. The very same basis to the human world. Standing on her tower symbolized the spirit world, and the top of each tower, which was carried out in the form of a lotus, pointed to the area located between the two worlds - earthly and heavenly.
The materials for these buildings wereburnt brick and sandstone. When built Michon, everything here is reminiscent of buildings of ancient India. Scene basis was the triad - Brahma, Vishnu and Shiva. This was regarded as the central deity Shiva local cult, and today his picture is on any of the remaining Cham structures.
Photo excursions in Nha Trang