Activities in Nha Trang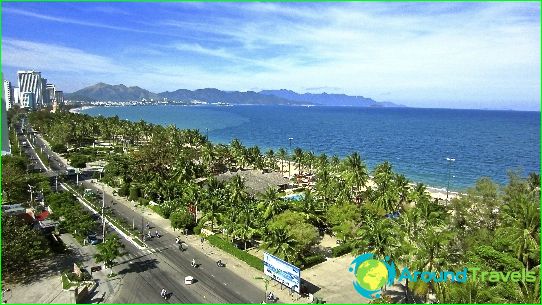 Activities in Nha Trang - it's white beaches, first-class spa-treatments and mud baths, luxury hotels, excellent service, entertainment centers, vibrant nightlife.
The main types of holiday in Nha Trang
Beach: at the beach you can sunbathe on the loungers, take a ride on a jet ski, banana boat, catamaran, buy souvenirs, drinks and snacks from passing along the beach sellers. Fans of passive and measured rest can go BaiDai beach - there are practically no waves (the exception - the winter months, when here for good waves surfers flock), are comfortable entering the water, café, where you can eat delicious and inexpensive seafood.
Sightseeing: as part of tours offers a look at the Cham Tower Po Nagar, a large stone Buddha statue, Cathedral of Nha Trang pagoda Long Sean, visit the National Oceanographic Museum, as well as a trip to the nearby islands - Monkey and Silk, waterfalls and hot springs, located in the surrounding area of ​​Nha Trang.
Active: tourists can go diving (in the waters of the South China Sea, you will see colorful corals and colorful exotic fish), go for a bike ride in the picturesque surroundings on the deep-sea fishing. A visit to an amusement park "VinPearlLand", you can go climbing, windsurfing, ride on a variety of rides, fun at the disco.
Event: Nha Trang is worth to visit the Whale Festival (3rd lunar month), the Sea Festival "NhaTrangSeaFestival" (June), Festival "CheNgoFestival" (November), the celebration of Independence Day (September 2).
Prices for tours in Nha Trang
The best time to travel to Nha Trang consideredBetween the end of February and September. It should prepare for the fact that in high season, which lasts from March to August and from late January to mid-February (Vietnamese New Year) the price of tickets to Nha Trang several times increase. Relax at very attractive prices in Nha Trang can be in the low season (end of September - mid-January). But at this time to be ready for, though short-lived, but abundant rains (in addition, there is a minimal risk of tsunamis and typhoons).
On a note!
As in Nha Trang is easy to get sunstroke, and burn it with you on vacation it is advisable to take an effective sunscreen and after-sun agent, and light clothes and a hat.
Pickpocketing in Nha Trang - is not uncommon, therefore,documents and money is better kept in the hotel safe and to carry a photocopy of your passport and just a little cash. Also, you should be careful when paying for goods and services, since the Vietnamese often deceive visitors.
From Nha Trang can bring Vietnamese hat"Non", handicraft articles made of stone and wood, musical instruments, clothing of Vietnamese silk paintings in the Asian-style spices, pearls Vietnamese (buy products made of it in stores that can provide on-demand certificate), ceramic products.
Photos holiday in Nha Trang