Independent travel to Nha Trang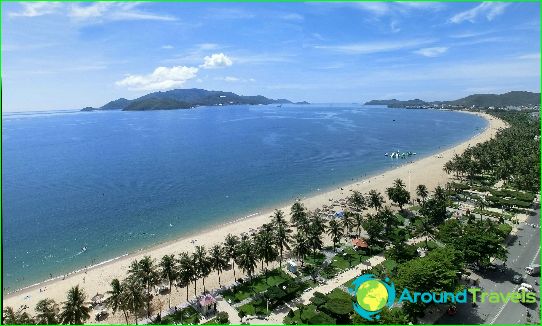 Vietnam Nha Trang resort is firmly establishedtop thirty most beautiful bays in the world. Here, stunning sunrises, excellent seafood restaurant, friendly inhabitants and a comfortable climate for a beach holiday. And what else is needed exhausted gray rossiyaninu off-season, which begins to hear the sound of the surf, even in the din of the Moscow metro?
When to go to Nha Trang?
At the resort there is the concept of Vietnamese"High" and "low" seasons. The most popular months among tourists - from March to September. In October, the rainy season, which lasts until December. However, experienced independent travelers prefer it this time, because the hotel rates fall significantly, it rains mostly at night, so not only does not interfere with sunbathing, but, on the contrary, bring refreshing coolness.
How to get to Nha Trang?
Only a week, but a direct flight from MoscowVietnam Airlines serves. With the transfer in Hanoi can be reached from other cities in the rest of the week. If your destination is selected air travel Ho Chi Minh City, you should use more local railway services. its tickets prices are quite affordable, and travel time will not exceed 8 hours. If you purchase a ticket on the night train, you can save money for one night at the hotel.
housing
Hotels in the Vietnamese resort presented atvery different taste. Here you can relax in the luxurious apartments, the price of the hotel in which the rolls for $ 300-400. At the same time unassuming traveler chooses for himself a simpler hotel, which will find and cleanliness, and comfort, and excellent service. For Nha Trang hotel staff customer desire - the law, but because at this resort you can relax in the full sense of the word. The most unassuming and did booking of bungalows on the beach and enjoy the noise of the sea and privacy in the style of "bounty".
Argue about taste
Kitchen Southeast Asia is particularlyexotic. Simply put, here cooked and eaten everything. Before you try something, it is advisable to ask about the products that became the basis of food, then not to have trouble with the stomach or worse, allergic reactions. The restaurants at the hotels there is no danger to get food poisoning, but the city is best to avoid ice in drinks. Buying food from street vendors should be very careful and if possible try to evaluate the appearance of a cook and clean his equipment. In such places, it is best to buy only thermally processed foods.
Photos trip to Nha Trang