Transport in Nha Trang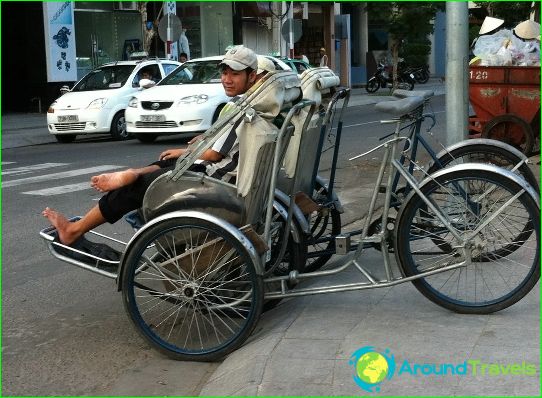 In Nha Trang no metro and trams, but for those still available are four types of public transport.
Taxi
In Nha Trang is very much a taxi. Each car is equipped with counters, but it should be prepared for the fact that higher prices for travel in the 2 - 2.5 times, compared with the Russian. The fare depends on the vehicle class. If you want to save on travel, you should prefer a smaller car. Bear in mind that landing in a taxi and the first hundred meters worth 10,000 VND, accounting for 15 rubles.
After that, the cost of growth depends on whatthe car you have chosen, but the cost is usually 14 - 17 thousand VND, and the price begins to decline only after thirty kilometers. Be prepared for the fact that many drivers increase the cost of the trip, as the counters taken to tighten up. As a result, costs can be significant, but the taxi is one of the most popular means of public transport.
Buses
In Nha Trang, tourists can take buses. Now available in six routes.
The route begins in the central area (Dien Khanh), and ends in the southern part - to Vinh Truong street.
Buses go from the central region to the district Binh Tan. The route runs along the promenade, known as the street of Tran Phu.
The route goes from the southern to the northern bus station.
The route starts near the street Duong Hien Quyen (the northern part of the city), and the final stop is the Vinpearl. Bus rides street Nguyen Thien Thuat, Cham towers.
The route goes along the following plan: Bridge Tran Phu (the northern part of Nha Trang) - the central part of the city on the street To Hien Thanh - Hon Ro (southern part).
The bus goes from the southern bus station to the city's fish market.
Tickets for all buses is the same and amounts to 5,000 dong.
Taxi-motorbikes
This transport can be found in mostintersections, pedestrian crossings, which are located in the tourist area. Be sure to negotiate the price in advance and try to bargain, because the cost can be inflated twice.
Trishaw
If you decide to ride a trishaw, pricetrip should be negotiated in advance and try to bargain. However, due to the cost may still grow substantially. Be prepared for the fact that the trishaw ride very slowly. In this regard, the traffic in Nha Trang can be regarded only as an exotic in order to have fun.
Photo