Aquariums in Nha Trang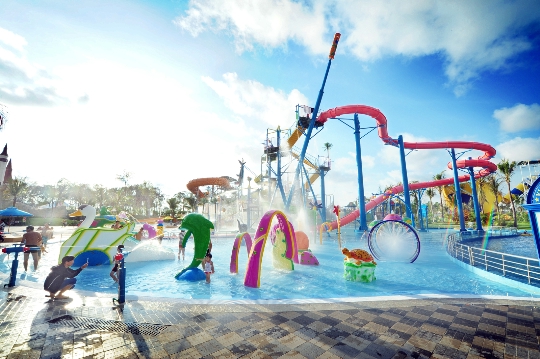 Activities in Nha Trang will be of interest to travelers of all ages, because local activities designed to meet the interests of each and every one!
Aquariums in Nha Trang
Waterpark Vin Pearl Water Park amusement park Vin Pearl Land features:
"Lazy" river (the river you can go with the flow on a single or a double circle) and the beach;
slides for adults ( "Body Slide", "RaftingSlide "," Space Hole "," Tsunami Slide ") and a large swimming pool with a device for generating waves (around the set a lot of sun loungers, where you can rest after an active pastime);
children's area with slides, fountains, a barrel with water (it translates as filling), a swimming pool, which at times turns into the sea with the waves;
food court.
Entrance fee: adult entry would cost $ 20, and children - 13 $ (free admission is available only for children of less than 1 m).
Water Activities in Nha Trang
Travelers can stay in the hotel, features a private pool if desired - in "Amiana Resort Nha Trang", "The Costa Residence" and others.
Travelers Noteworthy Tri Nguyen Aquariuma ship on the decks which are located aquariums predatory fishing and ornamental fish (aquarium complex is partly made in the form of a body of water where the water enters the sea, so the sea inhabitants live there in conditions close to natural). In addition, you can feed the fish, buying special food for them in nearby cafes.
As for the beaches, the travelers willinteresting Nha Trang Beach - it is equipped with canopies from the sun, bars, sun beds, and in addition, guests are pleased with massage services and a variety of beach activities (jet skiing or snorkeling). As for families with children, they need to closely monitor the small touristy as 2 meters from the sea depth increases sharply.
Divers will appreciate the fact that the seabed inNha Trang is strewn with corals, which means that when they are able to dive to see the soft and hard corals. And because nearby is the Monkey Island, where you can dive to inspect and examine carefully wrecks.
If desired, you can order in Nha Trang tour includes visits to one of the floating fishing villages (as the movement used the boat-basket "Thung tea").
A trip to Nha Trang is schedule duringcelebrating the Sea Festival (June) - in the city and on the beach at this time to make a show and festive processions, organized performances by musicians and dancers, and in addition, competitions are held in Aquatics.
Photo