Where to eat in Nha Trang?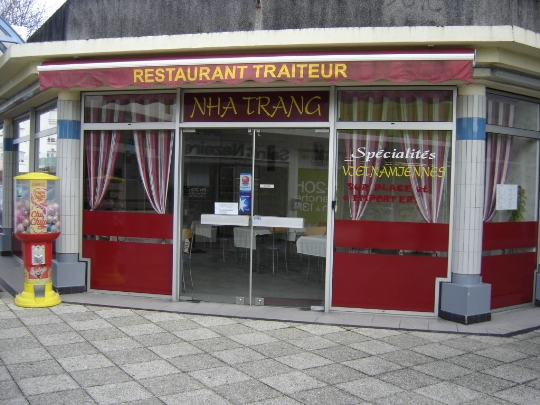 Thinking where to eat in Nha Trang? This seaside town is a variety of dining, where you can savor authentic Vietnamese, Thai, French, Chinese and other cuisines.
Where to eat in Nha Trang cheap?
Cheap eat in the city can be in the KFC (chicken,salad, rice with sauce will cost you $ 3). "Nha Trang" Strolling through the shopping center, well worth a visit the food court, which for any burger, including Vietnamese, you will give no more than $ 3.5.
It is worth paying attention to places with typical Vietnamese junk food - in the local cafes and eateries you can eat fried chicken, spring rolls, the local ice cream (prices range from $ 0.5-5).
Where to eat in Nha Trang tasty?
Local: This restaurant offers its guests to taste traditional cuisine and eclectic. You can come here to eat or order food delivered to the right place for you. In this place you will be served excellent oysters and Hot Pot soup you can prepare yourself for your table (you bring the pot and various ingredients). The Local's worth trying a vegetarian pizza, chicken curry in Vietnamese, tuna pot, seafood, local beer.
Grill Garden: This restaurant serves Asian and European dishes (for their cooking use open stoves, which are visible to all visitors of this institution).
Louisiane Brew House: This restaurant-brewery, you can enjoy traditional Vietnamese dishes, Italian pizza, fresh seafood, Japanese delicacies, beers, as well as enjoy live music.
Checkpoint: in this restaurant menu you can find dishes of Vietnamese, including exotic foods such as meat crocodile, snake, frog legs, as well as Russian cuisine (dumplings, salads, soups).
Light House: This restaurant serves seafood, floating in an aquarium installed here (oysters, squid, sea cucumbers), as well as the exotic dishes of frogs, crocodile and ostrich meat. The institution is permitted to enter with their own products and cook them on the grill.
Gastronomic tours of Nha Trang
Culinary tour of Nha TrangIt includes visits to several authentic restaurants and tasting of traditional Vietnamese dishes. If desired, you can visit the cooking classes at the restaurant "Lantern". 5-hour workshop costs about $ 30 (the price includes all the ingredients of which you will prepare Vietnamese dishes, and later taste them).
Activities in Nha Trang lovers of active rest, bustling night life, wishing to improve their health, as well as lovers of good food.
Photo