Vietnamese Cuisine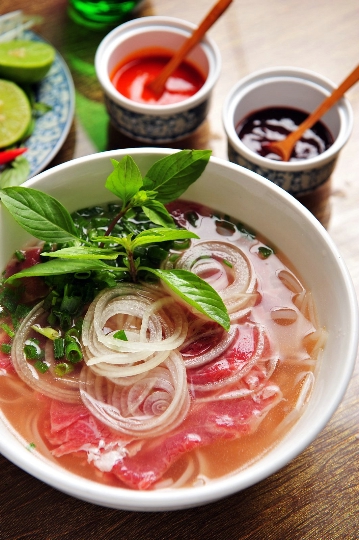 Are you interested in how the kitchen of Vietnam was formed? Then you should know that it was influenced by Indian, French, Chinese and other culinary traditions.
National cuisine of Vietnam
Widespread in the Vietnamese kitchengot rice dishes, seafood (cuttlefish, snail, octopus), chicken, beef, and delicious dishes are those that are made from the meat of rats, turtles, snakes (in the north of the country often complementary to national dishes in favor of soybeans, and in the south - fish sauce).
In the south of Vietnam-prepare soup that yam, friedgoat, shark fin soup; in the north - rice dish with condiments, soup of Pho, dishes of snails; in the central part of Vietnam - fish dishes, seafood, deer and turtle meat. It is worth noting feature cooking Vietnamese dishes - they are not subjected to prolonged heat treatment.
Popular Vietnamese dishes:
soup "Pho" (the main ingredients - chicken, rice noodles, fragrant herbs, greens, germinated wheat germ);
"Spring Rolls" (a dish of glass noodles and fried vegetables, which is wrapped in a pancake made of rice flour, but as a filling may make seafood or minced meat);
"Banhcom" (a dessert of sweet cakes based on peas, rice and coconut shavings, which is wrapped in a banana leaf);
"Ciao" (is a thick rice porridge, in addition to which often acts as finely cut pieces of beef or chicken).
"Pomfred" (fried fish with sauces "nyok Noam" and "tamarind" - it is usually served vegetables and rice).
Where to try the national cuisine?
In Hanoi should visit the restaurant "KitiRestaurant "(Vietnamese cuisine lovers will appreciate the wide range of dishes of authentic cuisine) in Ho Chi Minh City - in" Xu Restaurant Lounge "(ordering in this authentic restaurant, serving exotic sauces that give them a special piquancy); in Dalat - in "Long Hoa" (here make shrimp or pork on the grill, salad "Lotus Flower") or "An Lac 2" (here serving Vietnamese dishes - tofu soup); in Vung Tau - in "Phu Vinh" (recommended to try the fish in a clay pot - Ca Kho To).
Cooking classes in Vietnam
In Nha Trang offers a five-hour visitcooking course at the restaurant "Lantern", where you will learn to cook spring rolls, Fish hot pot (a kind of fish stew) and a dessert of mango and bananas in orange sauce with ice cream and rum. In Phan Thiet, you can enroll in a cooking class in "Mui Ne Cooking School", during which you will cook soup Pho Bo, pancakes made from corn, salad with green mango, shrimp and pineapple.
If you are partial to the Vietnamese gastronomy,come here in the fall at the Culinary Festival in January - at the Cocos (you try dishes based on coconut and take part in various competitions), and in March - at the Festival of coffee.
Photo