Tours in Danang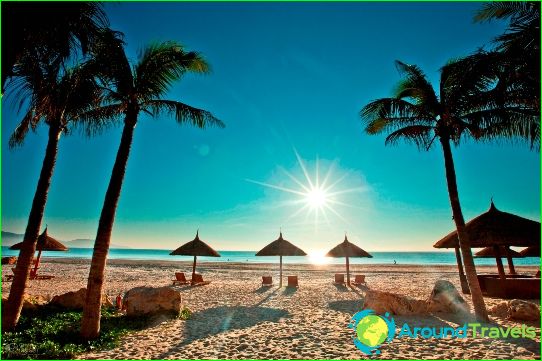 On the coast of the blue South China Seastretches Vietnamese beach resort of Danang. Tropical mild climate, white beaches with fine clean sand, its own international airport and well-developed tourist infrastructure make the city a favorite holiday destination of thousands of travelers each year. And tours in Danang - is the ability to go surfing, because it is here in the fall, you can catch the right wave and recharge your adrenaline and positive emotions for months.
History and geography
Modern Danang - the fourth largest andimportant city of the country, bearing the name under French colonization of Vietnam Turan. Even then, he was distinguished by well-developed infrastructure, it had resort status and is a favorite vacation spot of the Europeans of French origin.
The modern metropolis is visited by tens of thousandsof tourists every year, some of them coming by sea, after tours in Danang popular and cruise fans. The local port is the largest in the central part of the country.
Briefly about the importance
Direct flights from the Russian capital come inAirports Ho Chi Minh City and Hanoi from which to Danang - 960 and 760 kilometers respectively. Then you can use the local airlines or railway. Local Danang airport and train station are in the city.
The climate of these places provide the participants in the toursDanang nice weather for relaxation during all seasons. The water is a little cooler in the winter, but in the height of summer it warms up to +28. The hottest weather is in July and August, when the thermometer steadily strive for 30, and from December to February is pretty cool - up to 23.
Autumn season - a time when the booking of tours in Danang surfers. It was during this period of strong winds and guarantees high tide at the resort even competitions in surfing international level.
Indochinese champion
For those who go on tour in Danang,a unique opportunity to ride on the world's longest cable car. It is located about thirty kilometers from the resort and connects two mountain peaks. More than two dozen pillars supporting the cable car, and from almost a hundred booths you can admire the scenery and to capture their adventures on camera. Panoramic pictures are excellent.
Photo