Excursions in Dalat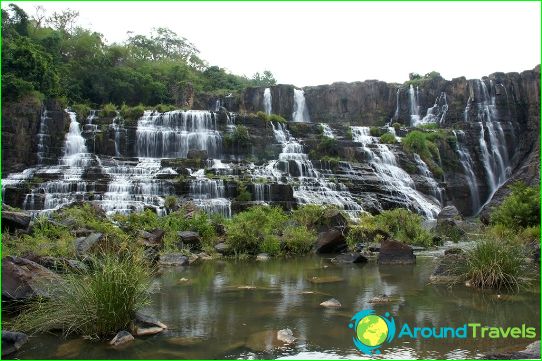 You want to visit Vietnam and meet with the State? Perhaps excursions in Dalat will enable realization of a dream start to life.
Dalat is one of the mostfamous resorts in Vietnam. This resort town is located at an altitude of 1475 meters on the plateau of Lubango. French Dalat was built in an effort to create an unusual "refuge", where they could escape the intense heat that prevails in the summer. Highlands differs favorable climatic conditions, because it is surrounded by waterfalls, lakes, pine forests and numerous natural parks.
Amazing Dalat
Sightseeing tours in Dalat allow startfamiliarity with one of the most unusual cities in Vietnam, but in order to fully enjoy a guided tour, it is important to see the best sights.
Natural attractions. Dalat attracts many tourists Xuan Huong Lake and Tang That. Importantly, the Xuan Huong Lake is different form of the month, so that it attracts the true romantics. Each tourist can visit the Flower Park, a history spanning 50 years. The park attracts a rich collection consisting of more than three hundred colors. If desired, you can visit the Valley of Love, go to the waterfalls Dambri, Guga, debate.
Lam Dong Museum. The museum center Lam Dong presents a variety of antique items that could be found during the archeological excavations. Lam Dong has nine exhibition halls in which are presented pottery, unusual costumes, musical instruments, agricultural and hunting equipment. Every visitor to the museum Lam Dong can learn about the culture and way of life of local people.
Pagoda Linh Son. Building Pagoda Linh Son carried out through donations from Buddhists around the world. The pagoda was built in the East Asian style. Everyone who comes in Linh Son, will be able to see the bronze statue of the Buddha, whose weight reaches 1250 kg. The yard, which houses the pagoda, surprise special beauty: pine trees and rubber trees, a pond with water lilies, dragon, symbolizing the sun.
Bao Dai Palace. Initially the palace was considered the seat of the French government, but then the Emperor Bao Dai bought the palace complex. Palace architecture really surprised. Each tourist can see the interior of the palace, after Bao Dai open to the public. It is important to note that the palace was preserved in its original form, as in the life of the emperor.
"Madhouse". Crazy House is a modern hotel, a cozy café and an interesting art gallery. The building looks like something abstract and alien. Here you can see the unusual caves of the web wires, concrete products, animal figures ... "Crazy House" is impossible to describe, it must be seen!
Dalat - this is one of the most beautiful cities in Vietnam.
Excursion to the city of Dalat
Photo excursions in Dalat