Vietnam Trains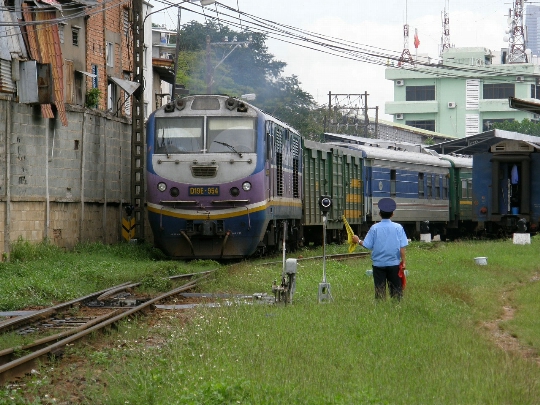 The most comfortable land transport inVietnam is considered to be the railway. In this country, passengers are offered a comfortable sleeper, which is very similar to the coupe in Russia. Vietnam Trains equipped with air conditioning and bathrooms. Travelers issued linens and pillow-top mattresses. When long journeys railway is the best option for many people.
Train routes in the country is not very much. But they ply compositions with different level of service. They differ in the speed of movement and types of cars. Vietnam Railway tracks have a length of about 3000 km. Most of the different ways a small width - 1 m.
Where to buy w / tickets
On the Internet there are sites where you canbook train tickets in Vietnam. This resources such as vietnamtrains.com, saigonrailway.com.vn, vietnamrailways.net. You can buy tickets in a railway ticket offices at the station. Booking online w / e ticket through an agency, we must not forget that some of the money will go to the virtual intermediary fees. In some cases more profitable to buy tickets to the official ticket office at the station. Comfortable seats in cars soft advised to buy in advance.
The railway connects the differentareas of the country, and is also used for international communication. The most popular domestic destination is Hanoi - Ho Chi Minh City. Every day it trains ply 5. Velocity Express overcomes all the way to 1700 km in 30 hours. A ticket on this route costs about $ 25. Vietnamese trains do not stop at small stations. Therefore, the traveler can not see the color of the Vietnamese hinterland by rail trip.
With regard to international traffic, theymostly originate from Vietnam - China. Sometimes tickets for sleeper more expensive plane tickets. In addition, very often the Vietnamese trains arrive with a delay.
From Hanoi there are routes that go to the portHaiphong, mountain resort of Sapa, in Kuynon, Nha Trang and Ha Long in the resort. On the popular resorts of trains arrive with luxury cars. Train schedule in Vietnam is shown in map-vietnam.ru site.
What are the conditions there in cars
Passengers are offered various places in the cars. Quad Coupe different conditions which are similar to the conditions of travel in the best Russian trains. There are air conditioning, toilets, light fixtures, receptacles, tables, hot and cold water, etc. Service for travelers in such a compartment at a good level. Tickets in this version is quite high.
In Vietnam trains have compartments, designed for 6 people. Each compartment is located on the 6 shelves. Tickets for passengers cheaper.
Many travelers prefer to usesoft seats. This soft chairs in a car with air conditioning. Chairs can lay to rest during the trip. Such places are very convenient for short journeys.
In the suburbs of the country's shuttle trains, carswhich have wooden benches. They are popular among local residents as suitable for short trips. The trains of this type there are cars with air conditioning and without.
Photo