Rest in Vietnam in February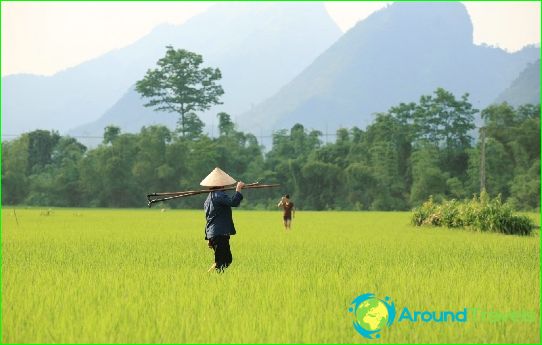 If the work schedule or in connection with othercircumstances holiday fell in February - do not despair. You can say you even lucky, because by the charming holiday destination of Vietnam in this time of year, you can spend an unforgettable winter weekend.
Why Vietnam?
Firstly, it is the availability of recreation for differentpopulation. Road to this fabulous place is worth a total of about 1.5 thousand. Dollars, and local services, entertainment and trips to cultural and historical sites to justify its price. At the same time in Vietnam infrastructure and there will not be any easy access. From Russia to the country three times a day fly planes.
Second, Vietnam - a resort and a well-groomedhospitable. Staff are always on the level, the locals are friendly and helpful, and the entertainment complex is unusually wide and help to "break away from complete" and forget about the gray everyday life of even the most demanding tourists.
Third, is the weather. In February, it does not bring unpleasant surprises, and often quiet. The climate is dry. It blows a gentle breeze, and the temperature does not drop below 20 degrees, even at night. The sea is very warm and reaches 25 degrees.
In the winter months the best destinations in Vietnam -is its southern part, namely Phu Quoc and Mui Ne. If you want to sunbathe on the gorgeous sandy beaches, enjoy the fascinating underwater scenery by diving and learn to surf - go to Phu Quoc. If you need to have on hand is not just sea, but also a bunch of entertainment, cafes, bars and restaurants - rest in Mui Ne.
Do not forget to visit Hanoi. He was pleasantly surprised outlandish architecture and flowering gardens. Well, is not it interesting to see firsthand the Huong Chi Buddhist temple or to visit Hanoi in the ancient Christian church - the Cathedral of St. Joseph?
Vietnam and family vacation
In addition, Vietnam - this is the perfect place to relax with your family. If you are a person with a high level of employment and a long time dream to spend time with children - safely, order a ticket here.
Especially for them, there are so many interesting things. For example, in the town of Nha Trang beautiful operates an amusement park, where you can spend days playing water games. After enjoying recreational activities in the water park, you can show your child Water Palace Aquarium, which is home to more than three hundred species of underwater inhabitants from around the world. Also worth visiting Ho Chi Minh, where an unusual zoo created, which will leave a lasting impression of your offspring. Moreover, the locals are very sensitive and carefully apply to young travelers are treated to their local sweets and play with them.
But on this holiday in Vietnam in February notend. A pleasant surprise for visitors at this time of year will be the celebration in most cities in the New Year on the local calendar. In honor of this grand celebration arrange festivals and carnivals. And immediately after the end of the festivities, Kwan begins - a local festival Marble Mountains, during which indicates the number of the people's opera and everywhere with songs of local folklore. So it will be no time to get bored and leave in February, will be held in Vietnam for the glory!
Photos vacation in Vietnam