Rest in Vietnam in November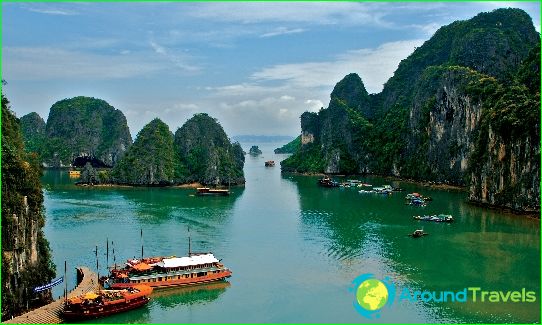 If you have planned to visit Vietnam, then in Novemberquite suitable for this month. Of course, this is not as hot as in the summer months, but due to subequatorial climate with prolonged monsoons here can be seen a big difference in the air temperature and, of course, the sea water. If Hanoi is only 18-20 degrees Celsius, then the resort Phu Quoc the air warms up to 30 degrees, as in Saigon will be around 28-20 degrees. You can stay in a suburban resort of Mui that Fantiheta near here as the temperature at this time more than 30 degrees.
The influx of tourists to this time will also bemuch smaller, and therefore prices are considerably fall. By the way, the price of tours to Vietnam this time as you will please. In many places on the coast it is possible to swim, because the water warms to 23-25 ​​degrees. Therefore rest in Vietnam in November promises to be a rich and rewarding.
If you choose hotels that are locatedon the coast, almost everywhere there are SPA salons, where you can make a well-known all over the world oriental massage. Many of them are used for beauty treatments and therapeutic clay.
What can visit in Vietnam?
At this time, will be interested in a tour of the riverThe Mekong, which is still known as the "rice bowl". There are many man-made channels and travel through it you'll be on a boat sampan - Vietnamese traditional means of transportation on water. If you love and appreciate the past, then you should definitely go to the ancient capital of Hue in Vietnam. You seem to magically get a few centuries ago, during the Nguyen Dynasty.
In hotels, and a lot of them here, you will feelamazing quality service that will allow you to feel the most important persons. Here, every step of hotels with 5 and 4 star hotels as well as a lot less luxurious apartments. As in the first place to see in this place, which is under protection of UNESCO?
Citadel - imperial residence - it's temples, walls, gates, moats. There are also museums, galleries and many shops.
Heavenly Lady Pagoda, which is the official symbol of the city.
Ngo Mon Gate
Palace of perfect harmony, and others.
You stroll through the streets of this ancient cityAdmire and other historical sites that abound here. And be sure to visit the Temple of Literature, which is nearly a thousand years in Hanoi.
What fun are waiting for you in the fall
Here, the development of tourism infrastructure, but becauseoffers trips to national parks, sailing. You did not try to jump with a parachute? Here you can experience the exciting thrill and excitement when will soar in the sky! You can dive into the sea and observe the life of the underwater world and many other attractions.
Souvenirs
From the Vietnam you can bring to the memory fan, carvedboxes made of mahogany and other wood products, the famous green tea. You can capture various salves and balms, bonsai and orchids, articles of snake or crocodile skin, and more. more. The choice here is huge, eyes just run away ...
Photos vacation in Vietnam