Vietnam Sea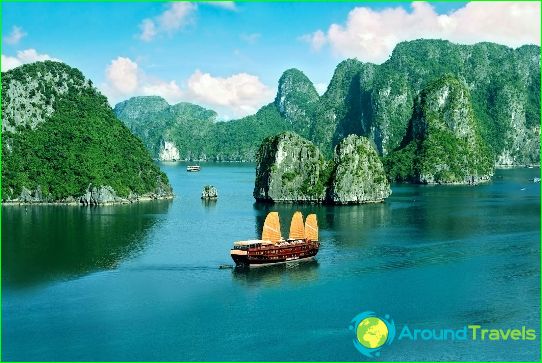 Even many hours of flight in Southeast AsiaEuropeans no longer confused, carefully mastering after Thailand and Cambodia Vietnam and mysterious. It lacks the exotic, and the sea of ​​Vietnam - a great way to relax after a long journey, to relieve stress and dive into the depths of pleasant experiences and sensations.
Comfort zone
When asked what the sea washes Vietnamgeographical atlases give the only correct answer, - South China. It is part of a water basin, which experts call the Australasian Mediterranean Sea. This name was born because this body of water connects the two parts of the world, and the sea itself is Vietnam and the Indian and Pacific oceans at the same time.
The temperature of water in the South China Sea is dependent ongeographic coordinates of the measuring point and the season. In the north of Vietnam, it may fall in winter to 20 degrees, while in the south, even in January, the thermometer will show a minimum of 25 degrees. During the summer months the sea is equally warm and comfortable throughout the area and the temperature values ​​are kept at around 27 degrees.
The richness of the sea depths
When asked what the sea in Vietnam, divers willinganswer - "Most suitable for dipping." It is the South China Sea holds many interesting sites to see who arrive annually thousands of fans of the underwater world. Another important reason to fly the sea of ​​Vietnam and is a question of price: the general opinion, diving is cheap, but perfectly organized.
The main "stars" of diving in the South China Sea:
Octopus. Some individuals are quite worthy to appear in horror films, but at the same time are quite friendly.
Clown fish, making his painted views of particularly successful underwater shooting.
Chutes and manta rays, bewitching its silent and smooth sliding technique underwater.
Moray eels and barracuda, absolutely not dangerous in compliance with all the rules of underwater swimming.
The most attractive places for diving inVietnam is the island of Phu Quoc and Nha Trang and Hoi An resorts. The most favorable season for scuba diving in the Sea of ​​Vietnam begins in late fall and lasts until the first days of summer.
For fans of sunbathing
Vietnam Beaches - a fine and pure white sand,clear water with a gentle entrance into it, and a good infrastructure on the bank. Here you can always dine in the café or restaurant, and the menu will be the basis of fresh seafood and fish caught by local fishermen in the morning.
Vietnam Coast Photos