Areas Sana'a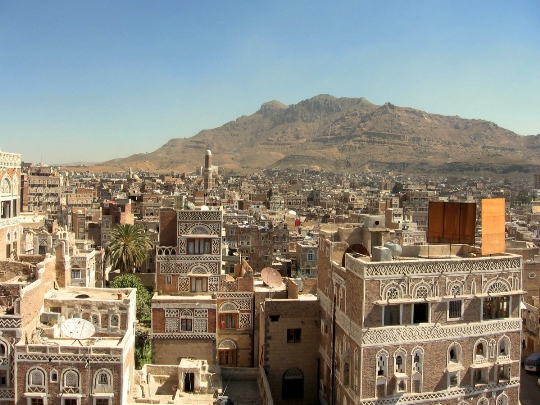 Sana'a Districts will be able to see on the map: the capital of Yemen is divided into 3 parts, bearing the following names - Old town of Bir al-Azab and Kaa-el-Yahud (despite the fact that Jews have long since left the area, it is still called the Jewish valley).
Description and sights key areas of Sana'a
Old city: tour of this part of Sana'a involves inspection of the gate of Bab al-Yemen, local houses (ground floor brought to shops, various institutions and workshops, with 3 floors - begin accommodations and top - laid to rest the men where they are going in the evenings smoking hookah, many houses are located gardens - where people grow vegetables and fruits in order to sell later harvest on the market), Sana'a University (Old east school, in which the museum is open: it is an exposition of mummies, which can be fixed on the photo, but it is worth consider that the museum is closed on Fridays), Al-Jami al-Kabir (Muslim shrine built, as they say, when the prophet Muhammad life; moreover, it is a repository of ancient books and manuscripts in Arabic; and near the walls of the mosque you can encounter with polishers carnelian, onyx and other semi-precious stones) and Al-Bakil (in architecture can be traced a mixture of national and Turkish styles) Gumdun palace ruins (before he had a square shape and consists of 20 floors, and in the construction of its walls were used white red, black and green stones), a visit to the market of Es-suk (here will be able to get spices, fabrics, woven with silver and gold thread, jewelry, daggers different shapes, silver and bronze hookahs, embroidered handbags, wallets and other handicrafts created women).
District Bir al-Azab: You can walk on Liberation Square; and even the area sheltered on its territory luxury villas, buried in orchards, the palace of Dar al-Skins (here to visit opened National Museum of History, where you can see about 75,000 archaeological and exhibits in the form of Islamic scripture, Craft and others) Military (famous for its collection of weapons) and the Museum of applied Arts (he keeps things in the form of objects creation and national clothes that talk about local life).
Where to stay tourists
Travelers who choose to arrive in Sana'a, mayto stay in the old town to be close to the main attractions, as well as bakeries, offices, shops, cafes, a variety of workshops. In spite of that you can rent an apartment, which is equipped with modern plumbing and a satellite TV, safe stay in hotels, the most comfortable of which is considered Moevenpick Hotel. A good place to stay can be accommodation facilities in the vicinity of Hadda street (where there is food places where you can be treated with delicious fish, baked with spices in Tanura).
Photos Sana'a areas