Airports Bangladesh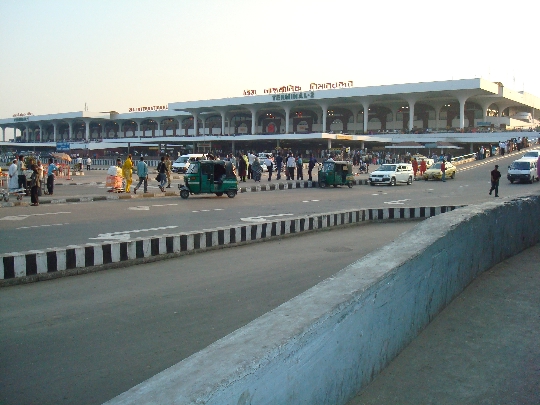 The greatest population density in the world - inBangladesh country, and the movement of trains and vehicles for foreign tourists here is the real test. That is why the airports of Bangladesh are very popular, and both the local population, as well.
International Airports Bangladesh
Those who have the status of international airports in Bangladesh located in different provinces of the country:
Dhaka Metropolitan Airport Hazrat Shahdzhalal (Dhaka Hazrat Shahjalal International Airport) - the largest in the country.
Sylhet Osmani Airport (Sylhet Osmani International Airport) is located in the eastern part of the country.
Airport Chittagong Shah Amanat (Chittagong Shah Amanat International Airport) is located in the south-eastern Bangladesh.
All air harbor take flights both from abroad and from other cities of the country.
metropolitan area
Bangladesh Main Airport is located 20 kilometers north of the capital Dhaka. Its three passenger terminals take a year to 8 million. Passengers, carrying landing and flight 190 flights daily.
N1 and N2 terminals Dhaka airport -international, and N3 is used for domestic flights. The first floor of each terminal - is the arrival halls, and on the upper departures are carried out. In 2012, at the airport in the instrument landing system, and today it has been updated is one of the most modern in the region.
Bangladesh International Airport operates with threedozens of airlines, including Air Asia, Air Arabia, Air India, Bangkok Airways, Etihad Airways, Singapore Airlines, United Airways. From here you can fly to Bangkok, Singapore, Guangzhou, Karachi, Delhi and dozens of other cities.
For optimum Russian travelersway to get to Bangladesh - buy tickets Arab airlines with a connection in Dubai, Sharjah or Indian - and fly through Delhi or Mumbai. Flight time will be from 12 to 14 hours, depending on the duration of the transplant.
Transfer from the terminal to the city is carried out on the train, which departs from the station "Airport" opposite the exit from the arrival hall. The journey takes around 40 minutes.
Spare airfields
Bangladesh Airport. Osmani is suitable for those who want to get to the east of the country. The city where the airport is located, is called Sylhet and center of the passenger terminal is separated by only 9 km away, which can be overcome by taxi. Despite the international status at that airport landing a Biman Bangladesh Airlines boards, carrying passengers from Abu Dhabi, Doha and Dubai. All other planes run between this air harbors in Dhaka.
Chittagong Airport is located on the border withMyanmar and receives flights from Calcutta, Bangkok, Kuala Lumpur and many domestic aircraft. Overcome 20 km from the terminal to the city center by train - take no more than 40 minutes on a shuttle.
Photo