Flag of Bangladesh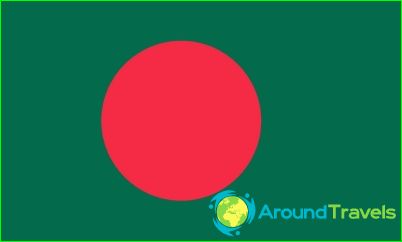 Officially, the state flag of the People's Republic of Bangladesh was adopted in January 1972, shortly after the end of the bloody war for independence.
Description and proportions of the flag of Bangladesh
Flag of Bangladesh is traditional for most states rectangular panel. Its length and width are related to each other according to the ratio of 5: 3.
Bangladesh flag field is made of dark greencolor. The flag is a large red disc. Image disc equally spaced from the upper and lower edges of flag shifted somewhat to the shaft from the free edge. The length of the radius of the red circle on the flag of Bangladesh is the fifth part of the length of the cloth. Flag is used for a variety of purposes on land.
Green field and the flag symbolizes BangladeshIslam - the religion professed by the majority of residents of the state, and the mighty vegetation of the country, which is one of the greenest in the world. Red flag on the disc - a stylized image of the rising sun, reminding residents of independence and free development.
Air Force of the People's Republic ofBangladesh uses a slightly different cloth. On the blue background of the rectangular flag in the upper quarter near the staff to apply the public image of the country's flag. In the bottom right quarter of the red disc is framed by a green ring.
Bangladesh Commercial flag also differs fromstate. It has a bright red box, the top of which a quarter adjacent to the shaft, contains the image of the state of Bangladesh character. This flag is used by private citizens and the courts.
Bangladesh Navy flag - a white rectangle in the upper left part of which is also the state flag.
History of Bangladesh flag
Initially, the Bangladesh flag in red diskIt housed the image of the country, inflicted gold color loop. It stressed the sovereignty of the state flag, which could be obtained only as a result of heavy military confrontation with Pakistan.
Later, the state outline with the flag removed, soas they were not easy to play, and on the front and on the back sides of the flag. Author Bangladesh flag Kuamral ideas Hassan was not opposed to such a practical solution.
In 2013, more than 27 thousand volunteers have created a huge flag and Bangladesh were in the Book of Records as the authors of the biggest at that time "live" flag in the world.
Photo Bangladesh flag