Kaliningrad Airport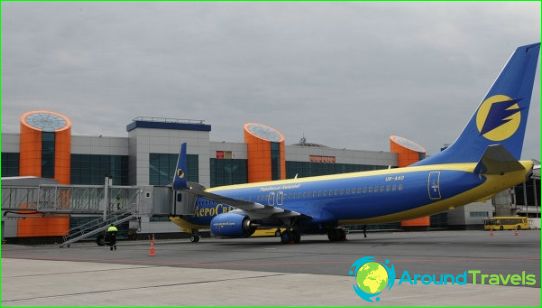 Khrabrovo - airport in Kaliningrad, located twenty kilometers towards the south-east from the city center, near the village of Khrabrovo, from which derives its modern name.
The airport has a runway length of 2.5 km and width - 45 meters.
Powerful runway surface can receive shirokofizyulyazhnye aircraft takeoff weight of up to a hundred tons, such as Boeing - 747, 757 and others.
In addition to the civil aviation airport in Kaliningrad is used by aviation units of the Ministry of Defense of the Russian Federation, parts of the Ministry of Emergency Situations and the Russian FSB.
History
The first airport in Kaliningrad (thenKönigsberg) was formed on the basis of a joint Russian-German airline "Derulyuft" in 1922. At the same time, and the first in the history of the Soviet Union have been committed civilian flights from Königsberg - Moscow.
In 1945, the airport became the propertyCivil Aviation of the USSR. In the mid-50s the airline relocated to the village Khrabrovo, and in 1961 a joint air squadron was formed on the basis of the airport.
In 1989 the airport received the opportunity to serve more than three million passengers a year, it gets an international status.
In October 2007, it launched a newrunway and the first line of the passenger terminal in the Khrabrovo. There are opening their offices such well-known airlines like Aeroflot, airBaltic, S7, Russia, Uzbekistan AirWays, UTair, and others. As well as getting the support and cooperation of the CIS airlines - SkyExpress, Avianova, Gomelavia, Nordavia, Ak Bars Aero Belavia and Orenburg Airlines.
In the future, creating a hub for Russian and foreign air carriers on the basis of the Kaliningrad airport.
Tools and Services
Like most international airportsclass Kaliningrad airport provides all conditions for comfortable travel and leisure passengers. It offers comfortable hotel arriving at the airport, a mother and child room, numerous cafes, restaurants, shopping arcade.
Hour medical service, currency exchange, post office, Internet cafes, information desk. For of VIP-passengers are equipped with a conference room and a meeting room.
Transport
From the airport to the city regularly with a frequencyonce an hour on the route "Airport - South Train Station" shuttle bus №138. Movement begins at 08.00 am and ends at 23.00.
By the same route minibuses go. You can also take a taxi.
Photos Kaliningrad airport