Rest in Kaliningrad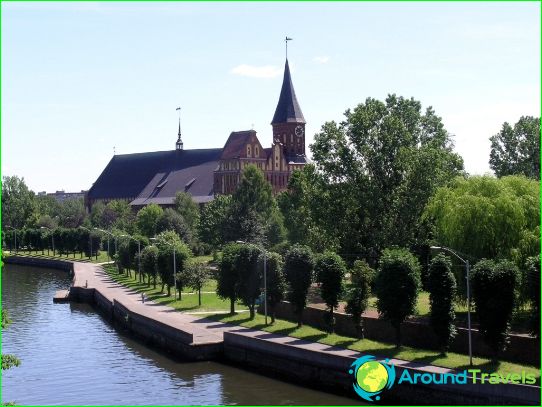 Rest in Kaliningrad - a great opportunityadmire the interesting architecture and nature, enjoy good service, stay at one of the cozy hotels (there for you to organize excursions, to help buy tickets for various events, tell you where to snack or spend time actively).
The main types of recreation in Kaliningrad
Sightseeing: with the tour, you will be able to visit the Amber Museum, the Museum of the World Ocean, walk in the park Luizenval, is famous rotunda, bridge and Queen Louise, Kirche, see the Cathedral, Rossgarten Gate, a sculpture "Fighting Bison". As part of the tours you will be offered to visit the nature reserve "Curonian Spit", and in the summer - to go on a boat on the river walk along the river Pregel.
Active: wishing kayaking can visit one of the respective clubs of the city - there for you to carry out instructions, is rented baydarkui prompt, where it is safe to ride. In addition, you can actively spend time in nightclubs ( "Lining", "PartyBus"), as well as riding on the ATV or playing paintball.
Beach: if your goal - to swim, you can go to the beach area Schoenflies lake - the water here is warmer than in the Baltic Sea and the beach lifeguard is following the procedure in the water and on land. With the same purpose, you can relax on a blue lake - they are surrounded by forest, which stretches down to the outskirts of Kaliningrad, and is famous for its clear water. You may want to take a cue from the many leisure and come here for a few days, taking with him a tent.
prices
The level of prices for tours to Kaliningrad is dependent onseason. The best time to visit Kaliningrad is considered from May to August (vouchers cost at this time is at its peak). Save on travel costs (30-60%) is possible, arriving in Kaliningrad in autumn or winter - this time, you can visit art galleries, museums, churches, taste a variety of dishes and drinks at local cafes and restaurants.
On a note!
If you are going to Kaliningrad, it is useful to take with youan umbrella as the weather in the city is changeable and can suddenly start to rain. If you are one of those who loves night walks through the city, keep in mind that in Kaliningrad after 23:00 without pubic transport, and if you will need to take a taxi, call him on the phone (it will be cheaper than catching a taxi on the street) .
As to bring mementos worthamber products (jewelry, home furnishings) - buy them only in specialized stores (the majority located in the central area of ​​the city), as in the souvenir shops often sell fake, and it costs just as much, and natural stones.
Photos vacation in Kaliningrad