What to do in Kaliningrad?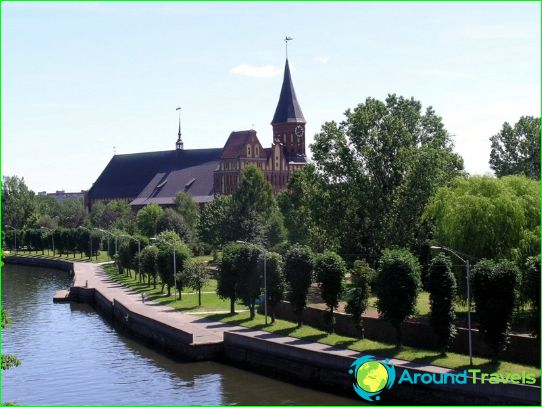 Kaliningrad, formerly Konigsberg(Fortress city), - a green city, famous for its historical sites, unique museums, libraries that hold medieval book collections.
What to do in Kaliningrad?
See business card Kaliningrad - Konigsberg Cathedral, now - Museum;
To go for a walk along the promenade Pregel, enter in the fishing village and enjoy the beautiful sculptures;
Go to the Museum of the World Ocean;
Inspect the tower-bastion Wrangel;
To visit the Kaliningrad Art Gallery and the Museum of amber;
See the Church of the Holy Family, Kaliningrad.
Things to do in Kaliningrad?
Kaliningrad is divided into three administrative districts: in the Leningrad area you will meet the Botanical Garden and Amber Museum, Moscow district - the Cathedral, the Church of the Intercession of the Holy Virgin, Friedland Gate, Central District - Drama Theatre, the city zoo.
Be sure to explore thedistrict of old houses: here you can admire the mansions built in the early XX century. A small streets, squares and shady alleys - a nice bonus for a walk.
To look at the hippos, black cranes, pink flamingos, crocodiles, lions and elephants, you should go to the Kaliningrad Zoo.
Children should be kept in entertainment clubs"Star City", "Igroland", "Jungle", rope town "Mowgli Park" at the park "Youth", an entertainment complex "Epicenter" museum center "Ship Sunday," a puppet theater in Central Park.
And children and adults will enjoy the informationCenter for Nuclear Energy. It features - multimedia cinema. Educational films reveal the secrets of astronomy, natural history and cities of our planet.
Fans of quiet rest can spend the evening inbilliard, couples - a romantic dinner in a restaurant, and willing to dance - off in discos and nightclubs. You love and know how to sing? It offers karaoke clubs Kaliningrad.
Active guests can goYacht Club (Bauman Street), to take a walk under sail, laser paintball club "Liquidation" (street Chekistov), ​​ATV39 club (the street of Alexander Nevsky) to rent bikes and ride along the mototrassam.
Activities in the Russian city of Kaliningrad lovers of excursions, sea and outdoor activities.
Photos you can go in Kaliningrad