Excursions in Kaliningrad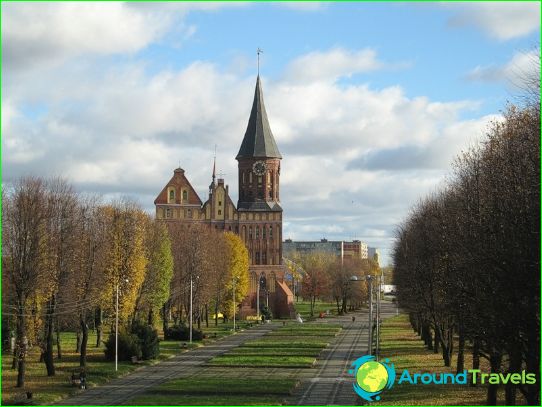 Many Russians and citizens of other CIS countriesThey tend to visit in Kaliningrad, because the city is considered one of the most unusual in Russia. Each point of interest stresses that before the city belonged to Prussia. How does the architecture of Russian cities now? Excursions in Kaliningrad will allow you to figure it out!
With what to begin acquaintance with Kaliningrad
Sightseeing tours in Kaliningrad arevery popular, because they allow you to visit the most famous places and appreciate the features of the architectural appearance in which visible current trends and features of German style. You can walk around the island Kneiphof, see the tomb of Kant and the Cathedral, the city gate and many other attractions. However, this program will be just the beginning of exploring the wonderful city.
The most famous attractions of Kaliningrad
Cathedral, recognized as a "calling card"cities. This attraction is the most important historical and cultural monument of the city. The cathedral was built in a style that can be described as the Baltic Gothic. In wartime, the building was completely destroyed, but later started the restoration work, which continues today. The cathedral is the tomb of the German philosopher Immanuel Kant. Currently the building is used for presentation of exhibits of unusual concerts.
Central Park of Culture is the most beautifulKaliningrad park complex. If you are planning a vacation trip in the warmer months, you should definitely include a walk in Central Park. Here you can see Kaliningrad Puppet Theatre, the Botanical Garden and the famous monuments of personalities, among which should be noted by Vladimir Vysotsky and Baron Munchausen. If desired, you can spend time on the rides and carousels.
Amber Museum is the only museumcenter in Russia, which is dedicated to this unique "stone". Each visitor can learn the history of mining and mineral origin, especially its artistic treatment and unique properties. The museum center presents fragments of the Amber Room and the best elements of the Baltic gem. Visit one of Russia's most unusual museums in order to understand how beautiful amber.
Best excursion program for the evening
You want the most interesting end of the day? In this case, you have to go in the quarter Fishing Village, where are the houses built in the style of old Konigsberg. The history of the area only began in 2007, but he has already won the hearts of many people. In the fishing village you can see the drawbridge "Jubilee", a winter garden, a tower, offering beautiful views of the modern Kaliningrad. Without a doubt, this program will help the completion of a day spent in the most unusual city in Russia!
Photo excursions in Kaliningrad