Airport in Rio de Janeiro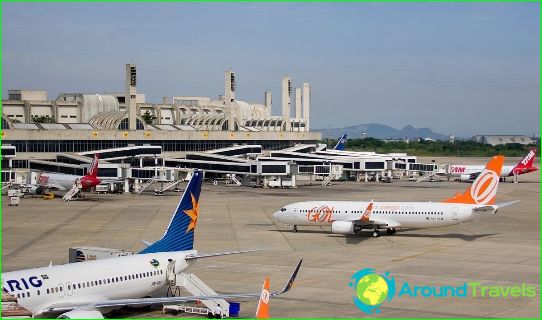 Rio de Janeiro Airport is located approximately20 km from the center of the same city in Brazil. He is one of the most important airports in the country, along with the airport of São Paulo. Most often it is called Galeao Airport. The name was chosen due to the fact that next to the terminal 1 is located Galleon Beach. Another name - Airport Antonio Carlos Jobim - famous Brazilian musician.
History
The history of the airport in Rio de Janeiro starting within May 1923, it was then on the beach Galleon was posted Naval School of Aviation. After 20 years here first hangars and terminal were built. Buildings, like the Air Force Galleon, active today.
In winter 1952 was put into operationpassenger terminal. Already by 1970 Galeao Airport is becoming the main international airport of the country. a new terminal was opened 7 years later, which is widely used today - Terminal 1.
Its status as the main airport of the airportRio de Janeiro lost in 1985. Then the airport in São Paulo passed a new WFP operation, which allowed the aircraft to service without restrictions by weight. Therefore, all major foreign airlines are increasingly began to use the services of the airport.
Now Galeao Airport is gradually regaining its status is constantly working on improving their service quality.
terminals
The airport has 2 active terminal, which combined the escalator. Also between them runs a special bus for an extra charge.
The terminals are convenient and simple pointers, so the difficulties should arise. In addition, reference desk work in both buildings.
At the airport there are various services that may be needed in the way: cafes and restaurants, shops, ATMs, post office, etc.
In Terminal 1 operating companies that provide cars for rent.
Transport
From the airport to Rio de Janeiro can be reacheddifferent ways. The city center can be reached by bus №2018, which runs from 05:30 to 23:00. Tickets for the bus can be purchased at any terminal.
There is also a shuttle bus that passengers wheeling through the main beaches and hotels in the city. The fare will be about $ 4.
A taxi to the city can be reached in around $ 30.
Photos Airport of Rio de Janeiro