Areas of Rio de Janeiro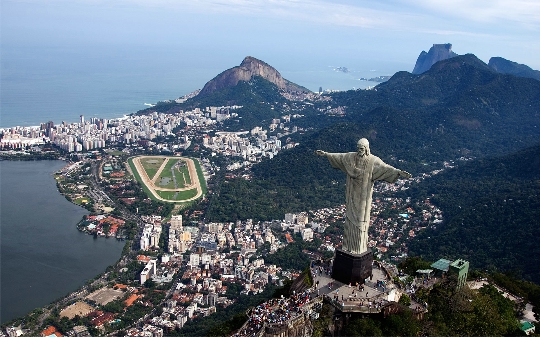 Areas of Rio de Janeiro can be seen on the city map - formally divided into 34 district, but the city has traditionally represented the four main areas.
Name and description of the main areas of Rio de Janeiro
Southern region (including Leblon, Copacabana, Leme,Ipanema, Botafogo, Lagoa): its main attractions - the statue of Christ the Redeemer (with viewing platforms should enjoy the surroundings and make amazing photos, and since around the statue of circling helicopters, you can book a helicopter ride, costing about $ 150), Flamengo Park ( for walks and active pastime thanks to the sports fields, bike paths, boat station, barbecue areas, in addition, there is a museum of contemporary art and Carmen Miranda), Leblon (suitable for wealthy tourists), Copacabana (surfing + beach volleyball + photography sculptures from sand), Ipanema (a safe and enjoyable bathing; the price is 30% higher compared to Copacabana).
Northern region: Sáenz Peña famous area with its cafes, restaurants complexes, boutiques and cinemas, as well as stadiums, among which stands out the Maracana stadium (tour here involves inspection of images of famous Brazilian players, dressing rooms and a football field). Tourists should be aware that many of the streets of the Northern area patrolled by police because it often happens here crimes and robberies (doubtful citizens are subjected to document checks and even searched).
Barra da Tijuca: area is famous for the 18-km long beach of Barra Beach - thanks to the waves he held in high esteem among kite and windsurfers (strong waves interfere with swimming, and children here should not be left unattended).
Historical Center: Downtown is divided into several blocks, it is allocated quarterly Cinelandia and Paws (visit the National Library of storing a collection of old books, the palace of Pedro Ernesto, the Municipal Theatre, Aqueduct Arcos de Lapa; and if you are interested in nightlife your leisure is to spend at Rua Street da Lapa), Carioca and Uruguayana (known confectionery Colombo and park Campo do Santana). We should also mention the quarter of Santa Teresa - it is famous for the mosaic staircase Selarona, Orthodox Church of the Holy Zinaida, Ruins Park, tram "Bondini", which is worth a ride.
Where to stay tourists
A distinctive feature of Rio hotels - lack of budget hotel rooms. In this connection, it is recommended to engage in advance booking of hotels.
Many tourists prefer to be occupied inhotel in Copacabana area, because there is noisy and crowded. While in the area, you will always be at the center of important events. From the hotel (mid-range), you can select "Hotel Astoria Palace" and "Orla Copacabana Hotel". Find a relatively inexpensive hotels can be in the areas of Lapa and Botafogo.
Photos areas of Rio de Janeiro