Metro Rio de Janeiro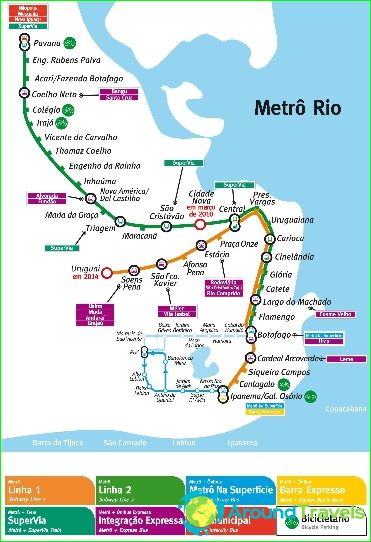 Metro Rio de Janeiro is the second largestunderground metro in Brazil after Sao Paulo. It was opened March 5, 1979 after serious debate and discussion of the project. As you know, the Rio de Janeiro - the second largest city in Brazil and the country's major tourist destinations. In the 1950s, the number of vehicles on the roads has increased dramatically. Rio de Janeiro is located on a hilly area between the mountains and the Atlantic Ocean. city ​​landscape is very uneven and travel through the narrow streets by car or bus - a very time-consuming task for the drivers. By the early 1960s, traffic jams, air pollution has become a major problem for the city. To overcome these problems, the local authorities have decided to significantly reduce the tramway network and gradually replace them with the subway lines.
Currently, Metro Rio de JaneiroIt represents 35 stations on two lines with a total length of 41 kilometer routes. This line 1 - the orange line (16 km) and line 2 - green line (30.2 km) have shared 10 stations with the distance between them is more than 5 kilometers.

Metro Line Rio de Janeiro
Line 1 (Orange Line) runs completely underground, it caters to the center of Rio, the tourist areas in the South zone, as well as some areas of the North Zone.
Line 2 (green line) passes through the surfacenorth-west to south-east and serves sleeping areas. Initially, this line is a light rail route, but due to a significant increase in the number of passengers, it is converted to a metro line.
In the near future Line 4 Commissioning(Blue line), its construction is scheduled for completion by 2016. It will pass over the bridge and then a tunnel inside the mountain and called to serve a neighborhood of Barra da Tijuca, in the West zone.

Tickets for the metro Rio de Janeiro
Pay the fare in metro Rio de Janeiro can beusing prepaid cards that are valid only in the underground, it can be bought at any metro station. This card is free, but the minimum amount on it should be $ 10.
Maps can be purchased from the cashier at the kiosk. Prepaid tickets can be replenished in the trade booths, or ticket machines at some stations.
Metro Pictures Rio de Janeiro