Season in Rio de Janeiro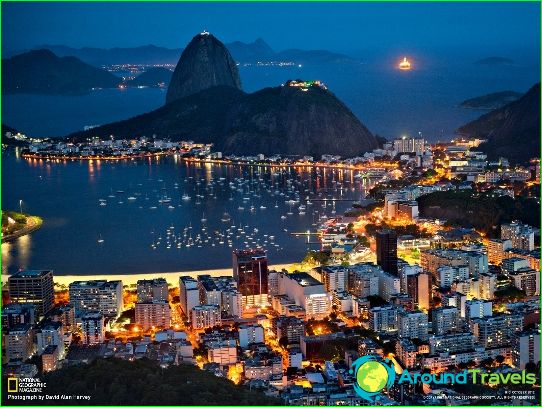 The famous Brazilian resort is located onthe Atlantic Ocean in the area of ​​climate subequatorial. Weather seasonality in these latitudes is weak, but because the temperature fluctuations are negligible and the beach season in Rio de Janeiro last year round.
Copacabana Beach
The best beaches of the city - it is many kilometersstrip of golden sand, known as Copacabana. The optimal time for rest here - from May to October, when the southern hemisphere winter comes calendar. Average air temperature readings in this period reached 28 degrees, and the water in the ocean bay warms up to +22. This season in Rio de Janeiro - the driest, and the likelihood of rain at this time is substantially lower than in January-February.
In December, the Brazilian summer begins, whichIt brings the intense heat and humidity on the coast of Rio. The air temperature in January reaches a peak and can go up to 40 degrees. The ocean becomes much warmer and thermometers record 26 degrees in the surf. Rains often than in winter, and daily rainfall increased approximately two-fold, but the humidity does not become critical, both in the resort areas of the Caribbean and Southeast Asia.
His Majesty - Carnival!
The main season in Rio de Janeiro - this timethe famous Brazilian carnival, visit the hot embrace that dream of every traveler. There come those great days on the eve of Lent. Carnival represents a farewell to the forty days with all the pleasures of the flesh, and therefore is in a particularly luxurious, richly and colorfully.
Carnival time in Rio falls usually onFebruary, and tours in Brazil for the period is much jump in price. This is associated with an increase in the price of air tickets, and a boom in hotels. Season carnival in Rio de Janeiro - a street procession and demonstration parade of samba schools on the avenues and the waterfront. These days, the city attracts hundreds of thousands of visitors who want to join the brightest holiday in the world.
"Rio" means "soccer"
For most men the tourist fraternitysynonymous with Rio de Janeiro is the word "football". It was here that the famous Maracanã stadium, once considered the largest in the world in the number of seats for spectators. In 2016, the Maracana stadium to take the next Summer Olympics. Its arena will host the grand opening of the Games, which will be another important season in Rio de Janeiro.
Photo