Beaches in Brazil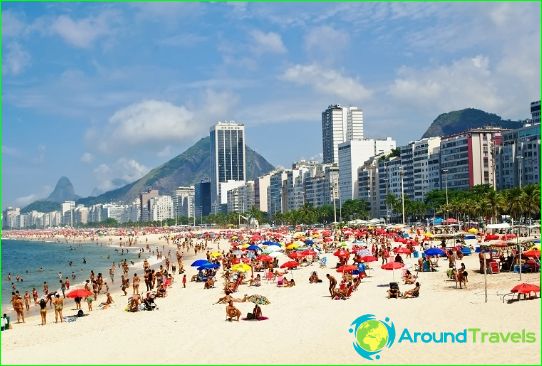 Many of Brazil known for its teamFootball, however, tourists who consider themselves real experts, well versed in the beaches of this country. Interestingly, everything sandy beaches of Brazil, so you do not have to worry about what would such podstelit not to leave the beach with bruises.
Brazil - a country of beaches
Local sandy beaches are located on the waterfrontBrazil line that extends as much as 7.5 thousand. km. We can say that the coast is almost entirely formed from the beaches. Tourists bask in the sun and swimming in the warm waters of the Atlantic Ocean. It is believed that the most popular beaches are located precisely in the north-western and northern parts of the country severely. There are arranged areas of Natal, Salvador, Recife and Fortaleza. The locals claim that sees summer all year round and do not know any more time of the year, except in summer. Therefore, the water in the ocean is warm all the time, even if the calendar is broadcasting the approach of winter.
Copacabana Brazil as a business card
Copacabana Beach - one of the most famous andthe beautiful beaches of Brazil. Its dimensions are enormous - so much so that matches are organized a game of football in its territory. Most often, this is the beach to show the ads, when they want to rest just a tourist in Brazil. Those who want to see the best beaches of Brazil, just have to go precisely in this part of the country, where the Copacabana.
Jericoacoara and quiet vacation
Travelers who like to take risks and live inWild prefer a beach with a long name Jericoacoara. It is quite far from the main mass of tourists, so you can feel at one with Mother Nature. The atmosphere is very relaxing, but, despite this, there are also many opportunities to engage in all kinds of water sports.
In addition to Jericoacoara and Copacabana, Brazil is also known by the following beaches:
Ipanema - it is located not far from the richest urban Leblon and Arpoador;
Porto da Barra, located in the cozy townSalvador, is the best place for lovers revel in full. Here you will learn national dances and how to give local flavor to feel;
Lopes Mendes, located on the Ilha Grande island, many tourists and even locals is considered one of the best;
Porto de Galinhas - a very beautiful and at the same time very quiet beach;
Beaches on the island of Moro de Sao Paulo will give tourists the opportunity to engage in water sports, dance club and, of course, have a good rest.
Photos beaches of Brazil