Education in Brazil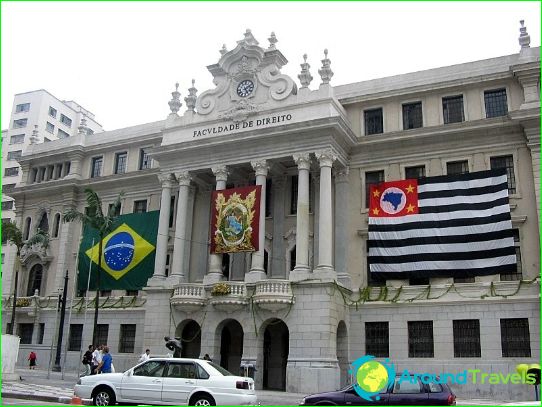 Brazil - a country in which to relax and get a lot of vivid impressions. And here you can come for the acquisition of knowledge.
Getting an education in Brazil has the following advantages:
Ability to learn free of charge;
A great opportunity to learn the Portuguese language;
The presence of advanced training systems;
The ability to master the most popular specialties (medicine, journalism, law, marketing, IT, administration).
Higher education in Brazil
For admission to the Brazilian university must pass exams and be interviewed (in preparation for entrance to university, after graduating from high school, you can take private lessons).
Enrolling in a Brazilian university can be based on the resultsENEM exam - a good result not only of the entrant will automatically make a student, but also give him the right to receive a scholarship under the program ProUni ( "University for All").
If funds permit, before entering ameaning a trip to Brazil to study Portuguese in short courses, which operate at the chosen school for the high school (for admission to university will need a certificate Celpe-Bras - it confirms knowledge of the Portuguese language).
In addition, the language can be learned on your owncountry, hire a teacher or go to one of the many sites to learn the language in the online classroom (in this case it is necessary to pass the exam and get the coveted certificate).
Higher education can be obtained by studying in public or private colleges or universities.
Enrolling in a public university, we can be surethat the training you will be worthless in financial terms (+ foreign students are provided with free housing). In public universities, students often conduct research (in this type of activity puts the money the state). In these universities the most popular specialties are engineering and medicine, and in private - Humanities (law, administration).
Federal and state universitiesconsidered the most prestigious, so do costs to the Federal University of São Paulo, Federal University of Rio de Janeiro, Federal University of Minas Gerais. Those who wish to enroll in a private college, is to look at the Catholic Church, as well as universities, "Mackenzie" and "Morumbi Anhembi Convention".
In Brazil, the value of young professionals, therefore,here received higher education, it makes sense to go to graduate school to develop a second specialty - in doing so, you will automatically become a valuable asset for companies that are interested in multi-functional and the staff are willing to pay them a generous wage.
Photos schools in Brazil