Metro Brasilia: map, description, photos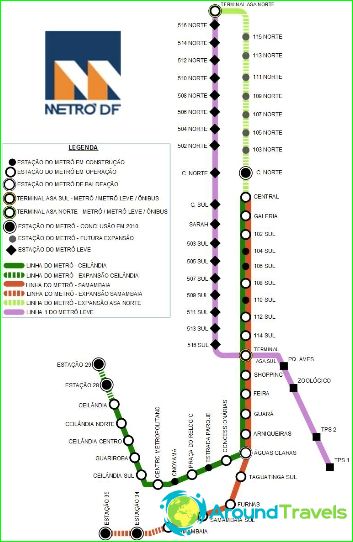 Metro Brasilia was opened and put intooperation only in 2001, although original plans were very optimistic, and the metro was planned to run in April 1994 - that is, two years after the start of construction, which began in 1992. To date, his system of 24 stations on two lines (green and orange) with a total length of 42.38 km of ways. Passenger traffic is about 130 thousand passengers per day. Thus, the Brasilia metro - the second largest underground in Brazil after São Paulo Metro.
Metro Brasilia is a Y-shapedcircuit lines. Green and Orange lines have a common land routes with 15 stations from the central bus station and then branch off the line at the station Aguas Claras. Some parts ways are above the ground. Average train speed - 45 km / h. The stations are equipped with elevators.
The green line runs from Central Station to Station Ceilândia. The line length of 33 km, 20 stations, travel time - 40 minutes.
The orange line from Central Station to Samambaia Station. The line length of 42 km, 16 stations, travel time - 30 minutes.
With the existing subway lines connected branchSkytrain, which began passenger service in 2010. In addition to providing a transport link between the southern areas of the city to the center, its functions include providing transportation to the international airport.
In the near future the construction of the northern section (light green line) is finished, the launch is timed to coincide with the opening of the World Cup in 2014.

Hours Metro Brasilia
The first months of the subway only worked with 10.00-16.00. Currently, Brazil is the metro runs from Monday to Saturday from 6:00 am to 23:30 pm, on Sundays from 7:00 am to 19:00 pm. Trains run at a frequency of 5 minutes during peak hours and 7 minutes at other times.

Tickets in Brasilia metro
To pay for travel to Brasilia metro usedtickets for one trip (Bilhete unitário) or rechargeable magnetic cards for multiple trips. Control turnstiles installed at the entrance and exit of the subway, so the one-time tickets should be retained until the end of the trip.
Photos Brasilia metro