Metro São Paulo: map, description, photos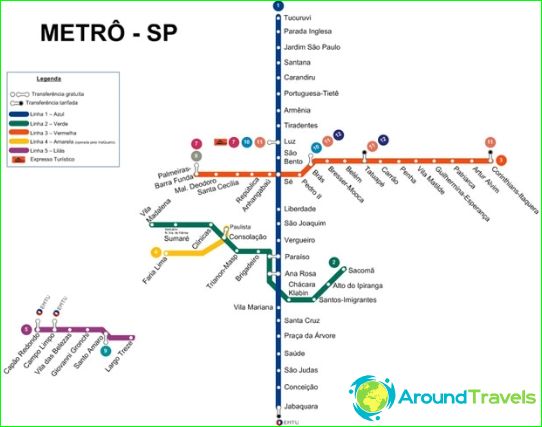 São Paulo Metro was opened in 1974 andToday is the largest metro in Brazil, and the largest in terms of passenger traffic (about 3 million. per day) in South America. By the beginning of 2014 Sao Paulo Metro is 5 lines and 68 stations with a total 74.3 km long ways. On MetroRail Industry Conference 2010 São Paulo Metro was voted America's metro.
The first subway system project in São PauloIt was proposed in 1927 by engineer Norman Wilson, who proposed a reorganization plan of the city transport system, with a focus towards the public rail transport. His idea, as well as other projects. Offers over half a century, categorically rejected by the municipality, and for many years served as the main public transport bus.
August 31, 1966 a committee was formedGrupo Ejecutivo del Metropolitano (GEM), designed to organize an international tender for the construction of the subway, which is next year won the HMD Consortium (German company Hochtief & DeConsult and the Brazilian Montreal), who began the geological studies and design of the first metro line length of seventy kilometers.
The actual construction began in 1968 with the lineNorth-South, currently the Line 1 (blue). The test launch took place in 1972 on the route between the stations Jabaquara - Saúde, a passenger started to be implemented since 1974.
Hours Metro São Paulo - with a 4:40 am to 1:00 nights. Metro Lines are distinguished by color and number: Line 1 - Blue, Line 2 - green, line 3 - red, line 4 - the yellow line and 5 - purple. São Paulo Metro gives passengers the opportunity to use the intercept parking, providing parking tickets E-Fácil. In order to help promote the use of ecological transport, metro Sao Paulo allowed to transport bicycles on almost all parts of the network.
Metro Pictures Sao Paulo