The population of Brazil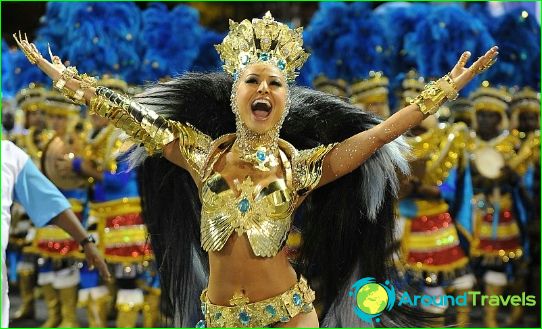 The population of Brazil is over 200 million people.
The population of Brazil was formed thankslong process, in which there was a mixture of different ethnic elements. Initially, African negros lived here, immigrants from Portugal and the native Indian people.
In the XIX century to the peoples immigrated from Italy, Spain, Germany and Portugal.
Today, the population of Brazil has the following ethnic composition:
Indians and mestizos of Portuguese-Indian descent (North and West of Brazil);
Africans (North-east);
Europeans: Italians, Germans, Portuguese, Poles (big cities and industrial centers of the South).
On average 1 km2 is home to 22 people, but it is the most populous city of São Paulo, Rio de Janeiro and the Federal District of Brasilia.
Most Brazilians profess Catholicism (64%), as well as other religions (Protestantism, Buddhism, Islam, Judaism).
The official language in Brazil - Portuguese. In addition, widespread are German, Spanish, Italian and French.
Major cities in Brazil: São Paulo, Rio de Janeiro, Recife, Belo Horizonte, Porto Alegre.
life expectancy
On average, residents of Brazil live up to 73 years.
Despite the fact that the medicine is in Brazilat a low level (the state spends on health care only 9% of GDP - $ 1,030 per year), the average Brazilians live long enough, because they are not drinking alcoholic beverages (2-3 times lower than in Russia, Estonia, Korea) and smoking (4 times less than the Ukrainians). In addition, among the Brazilians, the low level of obesity (15%).
The traditions and customs of the Brazilian population
Brazilian tradition is directly related tothe celebration of carnivals and other important dates. For example, each year in late February Brazilians organize noisy, bright and cheerful show in honor of the Carnival. During 5 days Brazil is immersed in the rhythms of the samba (samba carnival parade accompanied by the school). Participants speeches (speeches are of different stories, but they are united by a common theme) evaluates the special jury.
Brazilians - pious people, so they neverdo not miss the festive church service. So, they are in 35 degree heat with street festivals, dances and songs, December 25, celebrate Christmas. As for the traditional Christmas dinner is on the table of Brazilians always a turkey.
Brazilians love children, so October 12th they celebrate Children's Day - in the churches held a solemn service on television showing cartoons, children's programs and shows.
The streets are arranged for all sorts of childrencontests, and the parents give them toys and educational games, and allow children to do at home what they want: girls tend to bake cakes in the kitchen, and the boys - examine paternal garages.
Brazilians are sociable people who are always happy to discuss the football news and politics.
If you are thinking in Brazil, please note that it is forbidden to smoke in public places.
Photo