Resorts Brazil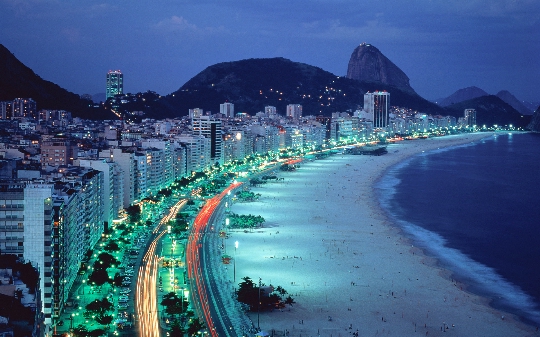 In this country fall in love immediately and unconditionally alltravelers. There is always hot, and by the sunshine, and from the temperamental dance, and from Copacabana sand heated by the love of millions, who were lucky enough to see off here tired light in nightly swimming in the ocean. It may seem that the phrase "the Brazilian resort" sounds too exotic and unattainable, but is some 20 hours of flight can be a serious obstacle for the true lover of eternal carnival?
"For" or "Against"?
Since the duration of the flight and usually beginsthe list of arguments "against" a trip to Rio. However, at that trumps pessimists tend to and end. Everything else in the bright and dazzling action called "vacation in Brazil" can only be the arguments "for":
There is always warm, and get a tan and a charge of good mood can be equally successful and in July and in January.
Tours booked in advance, and tickets to the resortsBrazil easily won significantly in price, and even wipe the holy of holies - the carnival! In February, the prices of all take off enormously, but prudent planning journey makes dream come true, not only for oligarchs.
In this part of the world is always full of fresh fruit. Pineapple and mango on Brazil resorts have a decent degree of maturity, and avocados are more like a melon - and the size and softness.
Pleasures of the natural environment can be assessed on a journey to the waterfalls of Iguazu. Such dizzying spectacle is no longer seen anywhere else, the more that you can for a short while "to go" in Argentina.
In the January of the river ...
That's translated from Portuguese soundsthe name of Rio, the city where Bender wanted to visit and in which the hearts of millions of travelers remain forever. The beaches of Rio de Janeiro - the famous Copacabana and Ipanema - a little bit different, but the sun and the ocean is enough to all, regardless of wealth, skin color and age.
On Copacabana going to the most motley crowd. The surf can be seen runners and dancers, cyclists and bodybuilders, children and adults. On the shore of the ocean boil such passion that it is in the sand of Copacabana Brazilian authors series often find stories for the next episodes of their soap operas. Hotels at this resort is located along the Brazilian coastline, and find a hotel to taste a person can here with any thickness of the purse.
Ipanema - beach, a solid audience favorite. Here the waves smaller and quieter passion, and people representative. Hotels on Ipanema generally not cheap, like restaurants.
Photo