Tourism in Brazil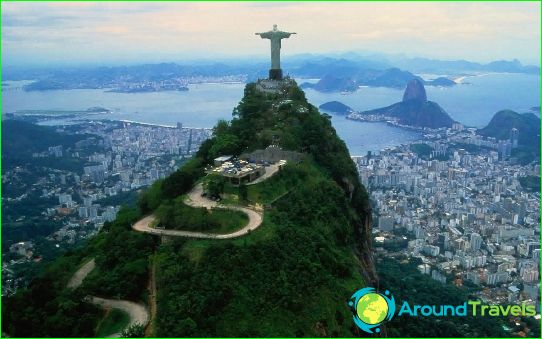 The golden beaches of Rio de Janeiro, catchy rhythmsBrazilian Carnival, fantastic jungle of the Amazon, a terrifying roar of waterfalls and sultry aroma of coffee - these are the main attractions that are based tourism in Brazil.
Sea delights of the coast, cheersat the sight of a dancing Brazil, aahs about the delicious local cuisine - these are the basic emotions of visiting travelers. The only negative, which is known to every tourist who dreams to get here - is the high cost of tickets and flights. It looked like another well-known Ostap Bender.
About flying in dreams and reality
Getting to Brazil is easiest by plane, this is the mode of transport chosen by tourists. All major airports in Europe are related to distant South America.
In the country you can travel using different modes of transport, sometimes very unusual:
buses, including the most expensive, with beds instead of chairs;
taxi intracity routes;
Subway - only in the capital of Brazil and São Paulo;
river transport, which is the main on Amazon.
If desired, you can rent a car, not to adjust to the schedule and to be free in their movements.
Remember Safety
Brazil - a country with a sultry delicate aromaDangers tourists everywhere. This hot sun, requiring protect the delicate skin of Europeans, strong undercurrents that have plans to travel guest. The locals are generally friendly and welcoming, but some of them did not stop the desire to seize unwary guest purse or camera.
Sun life
Base of hotels in Brazil developed at a sufficient level, you can find luxury apartments level of 5 * and modest, but it is a comfortable accommodation in a three star hotel.
Many tourists will note that Brazilian hotelsmostly older, update is very slow. In general, slow, in spite of the hot dances in the nature of the locals. This is evident on the Desk speed (or rather, lack thereof).
Festival year
The main event, which attracts to Braziltourists, it is, of course, carnival. And you can visit not only the capital, but also other cities, each of which held their carnivals. Clearly, in Rio de Janeiro, not only gather dancers from across the country (even from the most remote corners), but also the world.
Therefore, tourists who are going to Brazil,just to see the magnificent spectacle of the carnival should be prepared for the fact that emotions, passion, excitement and zakruzhat in this crazy dance of love.
Photo