Sea Croatia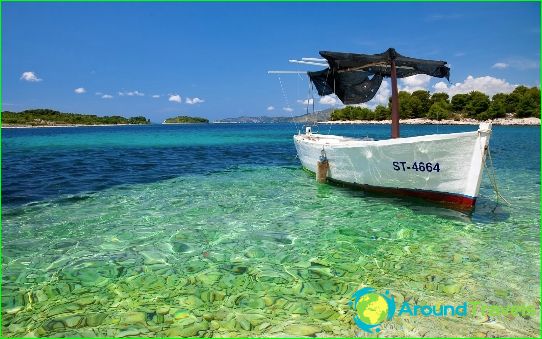 Asked the traveler what Sea in Croatia,Map gives the only answer: it is only one and is called the Adriatic. His name is the sea obtained from the ancient town Adria, which was once a port at the mouth of the river Po, and today is 25 kilometers from the coast of the river sediment rocks and mud on the ocean shallows.
Blue, like a wave of the Adriatic
That such a comparison may come to mindanyone who at least once in their lives saw the sea of ​​Croatia. Vast sea blue, merging on the horizon with the celestial and immersed in the quiet observer and unhurried contemplation - it is about the Adriatic. Against the background of its terracotta tile roofs and green trees look particularly picturesque, but because a photo shoot at the local Riviera give rise to the greatest number of successful shots in the presence of any model.
Which sea washes Croatia?
And the answer to this question will certainly becomethe word "clean". Beaches in Croatia are often awarded the prestigious Blue Flag certificate for compliance with all environmental regulations adopted in the European Union. There is a unique nature, which enjoy - a special pleasure. The cliffs and quiet coves along the coast interspersed with sandy patches beaches and pine forests create a unique flavor and makes healing even the air in the truest sense of the word.
On the Adriatic Riviera in Croatia are three main resort areas:
South Dalmatia Dubrovnik headed.
Central Dalmatia, among which is especially known resorts of Split and the island of Brac.
Istria - a peninsula, where the main recreation areas dominated by Pula and Porec, and the island of Krk in the local waters - the perfect area even for a day trip from the mainland.
Croatian beaches are classifiedmunicipalities, the entrance to which is free, and the rental of umbrellas and deck chairs will have to pay a small amount in euros. However, choosing rest in the middle of Dalmatia, you can successfully hide from the sun in the shadow of the magnificent pine trees that grow here very close to the surf line.
Interesting Facts
Adriatic Sea near Croatia in the summer warms up to 26 degrees, and the degree of its Black Sea salinity exceeds almost twice.
When asked what the sea in Croatia, you can hear the answer, "Mediterranean", which is consistent with the truth, because the Adriatic Sea - part of it.
The biggest in size island of the Adriatic Sea - Croatian Krk covers an area of ​​over 400 square kilometers
Croatia - Sights and cities
Photos coast of Croatia